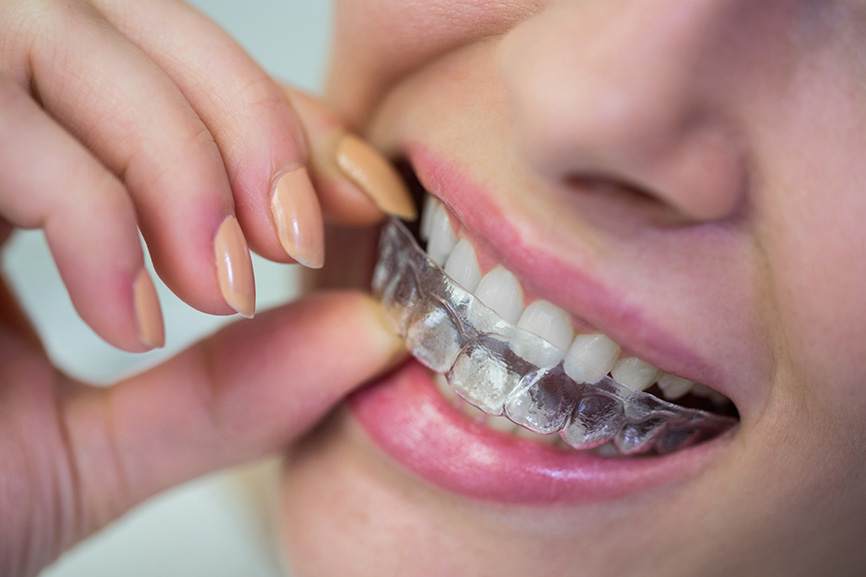 La Habra/Chino Hills, CA – Clear aligners are a wonderful orthodontic treatment option for many patients. Patients love that they are clear, comfortable and removable. But how often will you really be removing your aligners? Can't you just eat and drink with the aligners in like you would if you have braces?
"Unfortunately, patients should not eat or drink anything other than plain water when their aligners are in," says Dr. Robert Gire. "This is both a positive and a negative. It's a plus because that means you don't have to alter your diet like patients in braces do. You can enjoy all your favorite foods because you'll simply pop the aligners out before eating. But it can be a negative if you are a frequent snacker – you'll be pulling those aligners out frequently."
It's important to remove your aligners every time you eat or drink for a few reasons. Eating with your aligner trays in can damage the trays. Think of the force used when you bite down to chew. Your aligners are made of a strong plastic, but they won't be able to continually withstand that force. The trays can become cracked and damaged if worn while eating. If this happens, they won't be able to provide the proper amount of force needed to guide the teeth to their next location. And that can set back your entire treatment time.
It's important to also always remove your aligners when drinking anything other than water. This may seem like a pain, but if you want your aligners to remain nearly invisible, it's necessary. Drinking things such as coffee, tea, sodas or wine can stain your aligners, making them stand out instead of blending in. One of the reasons people love clear aligners so much is that they allow you to undergo treatment without drawing more attention to your orthodontic issue. But if your aligners become stained, you won't be able to hide them.
It's also important to remember to brush your teeth thoroughly before placing your aligner trays back in your mouth after eating and drinking. If you place the aligners back in without brushing, you're just coating your teeth with food particles and bacteria. This will lead to decay and cavities.
If you are a frequent snacker or you drink a lot of coffee, tea or soda, you'll probably notice that it isn't as convenient anymore because you'll be constantly removing and replacing your aligners and brushing your teeth. It's important that you wear your aligners a minimum of 22 hours a day to ensure their effectiveness and removing them frequently to eat or drink can impact this. Many Invisalign patients find it easier to switch to water during the day and enjoy other beverages during a mealtime when the aligners are already removed.
We also recommend avoiding smoking during your orthodontic treatment. Not only is smoking bad for your overall health, it also can wreak havoc on your smile. Nicotine turns teeth yellow, so just think about what it will do to your aligners if you smoke while in treatment. While you're improving your oral health, it's a good time to consider quitting smoking to improve your overall health, as well.
Clear aligners are a wonderful treatment option for many patients. Dr. Gire treats patients every day using both Invisalign and Spark clear aligners. To learn more about clear aligners and if you may be an ideal candidate for them, call Gire Orthodontics today at 562-690-1199 (La Habra) or 909-393-9911 (Chino Hills).