Orthodontic Dictionary
Your orthodontist may use a lot of words you've never heard before. Don't be afraid to ask us if you aren't sure what something means but this dictionary will help you understand some of these new terms.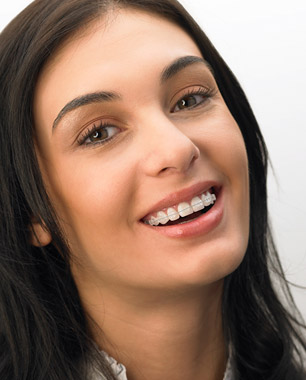 Parts of Braces
Appliance: This refers to anything that we attach to your teeth to aid us in the goal of moving teeth to their new locations. It can include braces, as well as things we may use to help guide the growth of your jaw, such as expanders, holding arches, or habit appliances.
Archwire: The archwire is the wire that goes along your teeth to guide them to their new locations. It will be changed throughout treatment as your teeth move.
Band: Bands are the metal rings that we cement to your teeth, going all the way around. We do not use these often as they are an older method of treatment.
Bond: A bond is the seal created by orthodontic cement to hold your appliances (including braces as mentioned above) in place.
Bracket: The brackets are the individual pieces that are bonded to your teeth and used to the hold the archwire in place.
Coil Spring: Coil springs fit over your archwire between brackets and work to open or close spaces as needed.
Elastic (Rubber Band): These small rubber bands are used to provide pressure to achieve certain positions during treatment. They will hook between certain points as directed by Dr. Gire.
Elastic Tie: Elastic ties, not to be confused with the rubber bands above, are tiny rubber bands that go around each bracket. They are used to hold the archwire in place, and you can choose your own colors to personalize your treatment.
Headgear: Headgear is an external apparatus that is used in some instances to help us guide the growth of the jaw while moving the teeth to their proper positions. An external wire, called a facebow, applies force by a spring-loaded neck or head strap. We do not use headgear very commonly in our office.
Headgear Tube: The tube is a round, hollow attachment on your back bands that holds in the inner bow of your headgear.
Hook: This is a welded or removable arm to which the elastics can be hooked.
Ligature: Your archwires can be held in place on the brackets using thin, ligature wires. We commonly use these if the tooth is highly rotated to help get it aligned better.
Lip Bumper: Lip bumpers are used to hold back the molars on your lower jaw in order to provide more space for other teeth and is made of a molded piece of plastic.
Mouth guard: Mouth guards protect your mouth from injury during contact sports or rigorous activity, and are recommended for all patients who engage in activities that could result in a blow to the mouth that could cause injury or damage to their appliance.
Palatal Expander: This device widens your upper jaw.
Retainer: Retainers are worn after braces in order to ensure the teeth remain in their new locations. The retainer will fit over your teeth, but in some cases, a bonded retainer may be recommended.
Separator or Spacer: These are small, rubber rings used to create space between teeth before bands are attached.
Wax: Wax is used to stop your braces from causing irritation to the inside of your mouth. Commonly used around hooks or the ends of the archwire.
Orthodontic Procedures
Banding: Fitting and cementing orthodontic bands to your teeth.
Bonding: Attaching brackets to your teeth using special orthodontic cement.
Cephalometric X-ray: An X-ray of your head that shows the relative positions and growth of the face, jaws, and teeth.
Consultation: A meeting with your orthodontist to discuss a treatment plan.
Debanding: Removing cemented orthodontic bands from your teeth.
Debonding: Removing cemented orthodontic brackets from your teeth.
Impressions: Biting into a soft material that hardens into a mold of your teeth creates an impression from which the orthodontist can prepare a treatment plan. We use an iTero scanner in our office in place of traditional impressions.
Panoromic X-ray: An x-ray that rotates around your head to take pictures of your teeth, jaw, and other facial areas.
Braces Types
Damon Braces: This is the brand of self-ligating braces that Dr. Gire most commonly uses.
Invisalign: This is the most commonly thought of brand of clear aligners and it is available at Gire Orthodontics.
Spark: This is a brand of clear aligner most used at Gire Orthodontics – they are available only for use by orthodontists and are the most discreet and comfortable clear aligner.
Symetri: This is the type of clear, ceramic braces used by Dr. Gire and are made of a polycrystalline-alumina that makes them almost translucent.
InBrace: This is the type of lingual braces used and offer a truly invisible option for orthodontic treatment.