Orthodontic Treatment For All Ages
Orthodontic treatment isn't just for your kids – did you know that today, nearly one in five orthodontic patients is over the age of 21? There is no time like the present to get the smile you've always dreamed of!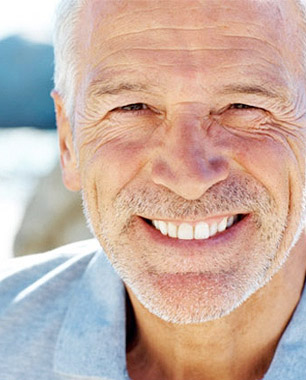 A person's reasons for seeking orthodontic treatment are as unique as the person themselves, but some common reasons include:
Teeth that fit together incorrectly
Teeth that are too crowded
Abnormal spacing between teeth
Jaw pain or pressure
Desire for improved confidence through a new smile
What benefits are there to orthodontic treatment as an adult?
Whether you had orthodontic treatment as an adolescent and you're in need of a refresh, or if you've never seen an orthodontist, orthodontic treatment can put you on the path to not only a straighter, better functioning smile but a healthier one too. That's because misaligned teeth can be more difficult to clean properly, leading to decay, gingivitis, and other issues. An abnormal bite can also place uneven pressure when biting down which can cause teeth to chip, crack, or break. Ignoring your orthodontic issue can actually make the issue worsen causing even more issues over time. A beautiful, straight smile can also increase your self-esteem and help you confidently show your smile off to the world.
Treatment Options for Adults
If you've been putting off orthodontic treatment because you don't like the idea of a mouth full of metal as an adult, you'll be happy to know there are much more discrete options to choose from. And even if you do opt for metal braces because of their efficiency, they are much sleeker and less noticeable than braces of old. Today's treatment options can seamlessly fit into your lifestyle.
Types of braces include:
Clear, removable aligners
Ceramic braces
Self-ligating braces
Lingual (behind the tooth) braces
Invisible braces
Traditional metal braces
The difference between adult orthodontics and orthodontics for children and teens:
There are differences between adult orthodontics and orthodontics for children. Adults do not have the benefit of a jaw that is still growing so treatment can be more involved if we need to correct the jaw alignment. If severe enough, this could potentially mean orthognathic surgery. Adults also have other issues that children usually don't, such as periodontal disease or worn/missing teeth. Our patients all have unique needs and we strive to provide each patient with individualized care designed to meet their specific smile goals. You will receive the treatments most appropriate for your issue and your age.
Adult Ortho FAQ
When is it too late for orthodontic treatment?
The good news is, you're never too old to get the smile you've always wanted. More adults than ever before are turning to orthodontics. So whether you come to our office when your 12 or 65, we've got the treatment that is perfect for you.
Why should I worry about braces at my age?
You may think that your less than perfect smile doesn't bother you, but think about a few things. Maybe you don't mind a smile that is a bit crooked or crowded, but do you have decay or gum disease issues? Your misaligned smile may be the cause of it. Crooked, crowded and otherwise misaligned smiles are harder to clean properly. That means decay and gum disease are more likely to set in.
Likewise, do you suffer from headaches, jaw pain, or even neck or ear pain? Do you have chipped or cracked teeth? A misaligned bite could be the culprit. Orthodontics don't just provide a prettier smile, but a healthier bite, as well. This ensures an even amount of pressure can be placed when biting down, which can alleviate pain.
Are metal braces the only option?
We know adult patients especially may be more concerned about looking into aesthetically pleasing treatment options. And the good news is, we have more than ever before. From standard metal braces that are sleeker than ever, to clear braces, Invisalign clear aligners and even lingual braces that fit along the tongue side of your teeth, we're sure to have the option that is right for you.
How will adult treatment differ from adolescent treatment?
The biggest difference is that adults don't have the benefit of a jaw that is still growing. While that doesn't mean treatment can't happen, it does mean it might be more involved. Some adults may require jaw surgery. But there are other things that can affect the outcome of adult treatment.
Adults are more likely to suffer from gum disease or have previous dental work that will need to be taken into account. Some medications, as well as habits such as smoking or clenching or grinding the teeth can impact treatment, as well.
No matter what issues you face, however, a trained orthodontist can work with you to help you achieve your smile goals.
Which treatment option is the best or works the fastest for adults?
There are a lot of different treatment options out there today, and they all have their benefits. There is not a one size fits all treatment option. The treatment option that may be the best for you depends on your individual orthodontic issue. And unfortunately, there is no magic treatment that is much faster than others. Moving your teeth is a science, and we can't predict how your teeth will respond to treatment until we start. While we may be able to provide an estimate of how long we believe treatment will take, every case is different.
If receive orthodontic treatment as an adult, will I need surgery?
Not every adult patient will require surgery. Surgery is indicated when the jaws are out of place or misaligned, making it difficult to bite, chew or speak properly, or have all of the teeth fit in the jaw. Unfortunately, when you seek out orthodontic treatment as an adult, we don't have the benefit of a jaw that is still growing that we can manipulate and modify to accommodate the teeth, so we may recommend surgery in order to achieve the ideal results.
How much does orthodontic treatment cost for adults?
The cost of orthodontic treatment depends on several tings – the severity of the issue to be corrected, how long treatment may last, the region you live in, and the treatment option you choose. Most orthodontists will offer payment plans, as well as financing options to help cover the cost of treatment. And if you have dental insurance, we'll work with you to ensure you get all of the benefits you are due.
How will orthodontic treatment impact my daily life as an adult?
This will depend on the treatment option you choose. First, if you choose bracket and wire braces, you'll need to not only pay attention to your oral hygiene, but also your diet. Avoid anything hard, sticky, chewy, or crunchy. If you have clear aligners, you'll need to be sure you always remove them before eating and drinking anything but plain water.
You'll also have to maintain regular appointments with our office so we can monitor your progress, and so that we can continue to monitor the health of your smile. Don't forget to also keep your regular dental appointments. We'll do our best to work with your schedule to help you keep appointments at times that can easily fit into your busy life.
Once your treatment is completed, the impact on your life will be immeasurable. We love seeing how confident our patients are when they see their new smiles!