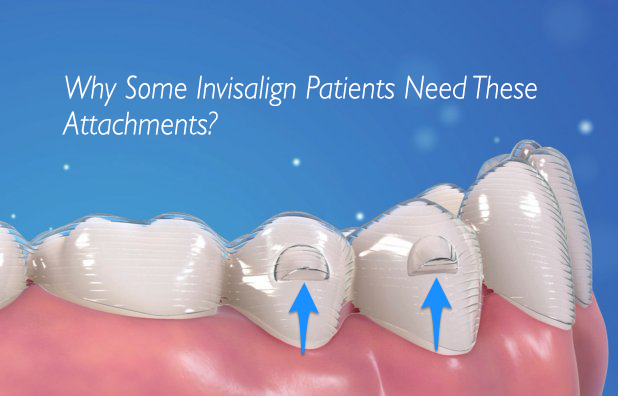 La Habra/Chino Hills, CA – You've made the decision to use Invisalign aligners to get the smile you've always wanted because you love that the aligners are removable and invisible. But your orthodontist now says you'll need attachments to get the best smile. What are these Invisalign attachments, and why do some patients need them?
"Invisalign is a fantastic option but remember, we're moving teeth with plastic and in most cases we need to use certain auxiliaries to ensure success," says Dr. Gire. "The use of attachments, buttons, and elastics allow us to treat a much broader range of more complicated orthodontic cases with Invisalign. Before choosing Invisalign, you should speak with your orthodontist about whether you might need them so you can have a proper understanding of what your treatment will entail."
So what exactly are Invisalign attachments?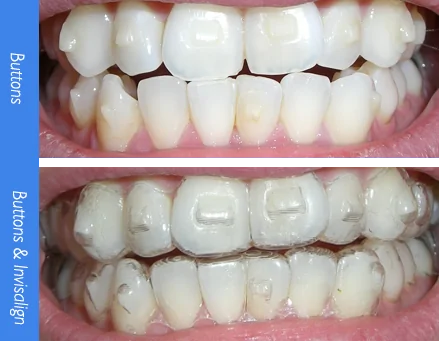 Your orthodontist will place small, tooth-colored dots (or "bumps" as our patient's like to describe them) of dental bonding material on certain teeth and specific locations, typically in the middle of the tooth. They can be different shapes, depending on the purpose. There are no shots or drilling of the teeth involved. They're just bonded to the front of the teeth and at the end of treatment they're just polished right off.
Invisalign is a revolutionary option, but sometimes certain movements can be difficult for the aligners to accomplish. An attachment can help ensure the right forces are placed in the right places to move the teeth. The attachments allow the aligner to "grip" or "grab" a tooth for ease of movement.
You may also require the use of buttons and elastics. The button provides the location for the elastic to be attached. If you need these, your aligner will most likely be trimmed slightly to allow for the button and elastic to be worn without compromising the fit of the aligner. Buttons are typically small plastic or metal brackets that will be the anchor points for elastics.
"In short, these attachments and tools (like buttons and elastics) give your Invisalign aligner more to hold on to and direct the bite to a better position," says Dr. Gire. "Invisalign is certainly more esthetic than even clear braces and it's so advanced now that we can pretty much treat any patient with this system."
Attachments, buttons, and elastics help the orthodontist create tooth movements that may otherwise not be possible with the aligners on their own. Prior to choosing Invisalign, your orthodontist can discuss with you if and where they may be needed and show you photos of previous patients who have used them so you'll have an understanding of what to expect.
"We also have a typodont or model that has them so you know what to expect," says Dr. Gire.
Think Invisalign is right for you? Chances are you're right! Schedule a free consultation at Gire Orthoodntics today to get the smile you've always wanted with Invisalign. Call 562-690-1199 (La Habra) or 909-393-9911 (Chino Hills).