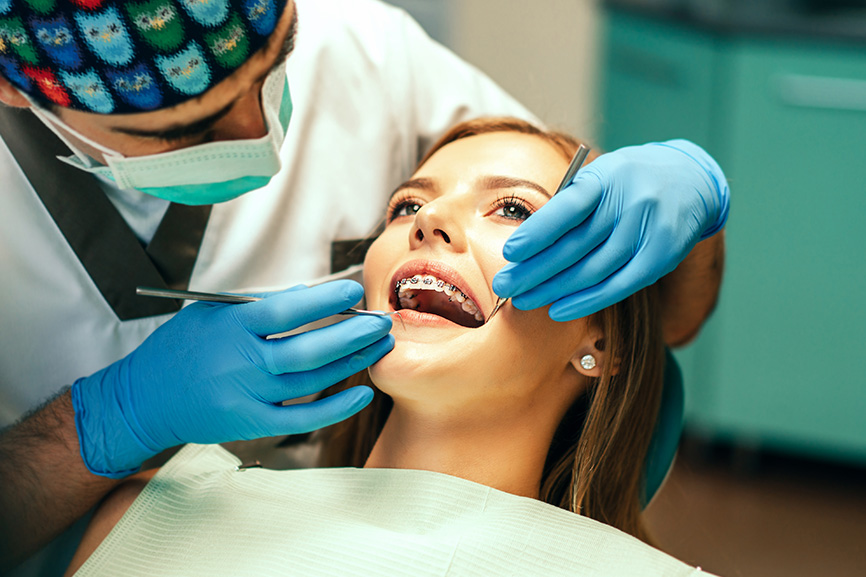 La Habra/Chino Hills, CA – When you started orthodontic treatment with braces, your orthodontist probably explained that you will have to come back to the office regularly for adjustment appointments. But what exactly happens at these appointments? Dr. Robert Gire of Gire Orthodontics, an orthodontist in Chino Hills, CA explains what happens at these important adjustment appointments.
"Some people refer to these appointments as 'tightening' appointments which can sound a bit intimidating," says Dr. Gire. "But don't worry – there is nothing to be worried about at these appointments! Technically, we're not tightening anything these days. We're advancing your archwire when your teeth are ready and yes, it may feel like tightening in some instances."
Adjustment appointments are important to help ensure your braces are working efficiently and effectively to move your teeth. Your orthodontist will check your wires, adjust them or change them as necessary, and provide you with fresh rubber bands to be sure there is correct pressure being placed on your teeth. It's important to have these adjustment appointments because otherwise your braces could lose their effectiveness over time and we want to ensure your treatment progresses as safe and efficiently as possible.
If you have ties on your teeth (traditional braces) your appointment will begin by removing the tiny elastics that hold the archwires to your brackets. These elastics fatigue over time so it's important to get them replaced regularly. If you have Damon braces, there are no ties on the teeth so there is nothing to replace. For both systems, we may also remove and advance the archwire if your teeth area ready to do so. We'll give your mouth a thorough look over to be sure the teeth are moving as we had anticipated and it also gives us a chance to make sure you are taking proper care of your smile.
Your braces adjustments appointments should not cause you pain, but you may feel a bit of discomfort after you leave. This will be from the new archwires placing the needed pressure on your teeth. It can take a few hours or up to a couple of days for the discomfort to subside. You can take an over-the-counter pain reliever as needed and we recommend sticking to soft foods.
If anything feels off with your new archwire, be sure to let your orthodontist know right away. In some cases you may feel the archwire poking your cheek. If this happens, please let your orthodontist know so the archwire can be clipped properly. If there are any areas causing you discomfort, use orthodontic wax for relief until you can get to your orthodontist's office.
We know that it can be hard to schedule regular appointments around school, work, and activities. We will always do our best to accommodate your schedule and will work hard to have you in and out of our office in no time. The average adjustment appointment takes only 20 minutes. We'll schedule your visits every six weeks, depending on your needs.
If you opt for invisible aligners instead of traditional or Damon braces, you will still need to visit your orthodontist regularly. While there aren't wires to change out, your orthodontist will need to ensure your treatment is progressing properly and that you are wearing your aligners as directed.
Adjustment appointments are crucial to keeping your treatment on track. If you can't make your scheduled appointment, let your orthodontist know so a make-up appointment can be scheduled as soon as possible.