The clear way to the smile of your dreams!
Damon Braces self-ligating braces are an innovation in the orthodontic world. The tie-less brackets combine with high-tech archwires to move teeth not only faster but more comfortably, too. You get the reliability of metal braces, paired with the most efficient and effective technology. At Gire Orthodontics, we are pleased to offer Damon Clear Braces – pairing the best of self-ligating braces with the discreteness of clear orthodontic treatment.
Rather than using a traditional bracket and tie system, Damon Clear uses a slide mechanism to hold archwires in the bracket. This allows them to move freely, thus reducing friction and binding and allowing your teeth to move more quickly and comfortably.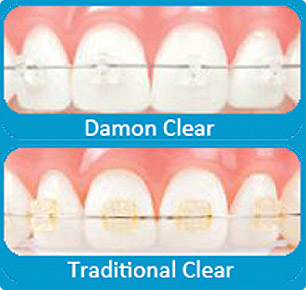 What does Damon Clear do for you?
Better aesthetics – No more mouth full of metal with Damon Clear. These clear braces are so discreet no one will even know you're wearing braces. They are resistant to staining and discoloration since there are no O-ties present.
Potentially faster treatment times – You don't have to be in braces forever with Damon Clear. Treatment times vary from patient to patient, but Damon Clear can resolve crowding faster than traditional braces options.
Increased comfort – Tie-less brackets don't require tightening and place less friction on the teeth. This means Damon Clear is more comfortable for you.
The difference is clear – Damon Clear!

Damon Clear uses a slide mechanism to maintain archwires within the bracket, allowing them to move freely. This reduces friction and binding, so your teeth can move quickly and more comfortably.
FAQ about Damon Clear Braces
Do Damon Clear braces need to be tightened like traditional metal braces?
No, Damon Clear braces work using a self-ligating system, which means no tightening. It's just a series of wires that gradually get the teeth straight.
Are Damon Clear really stain resistant?
Other clear braces can be prone to staining depending on the foods and drinks you consume and your oral care habits due to the ties (usually a clear tie) that hold the wire in place. However, Damon Clear are tie-less, which means they will remain stain-free and clear the entire length of your treatment. The brackets themselves will not stain.
Do Damon Clear offer shorter treatment times?
While every case is different, self-ligating braces can offer shortened treatment times for many patients. Some patients can enjoy treatment time that is 4-6 months shorter than other options may provide.
Will my insurance cover the cost of Damon Clear?
Dental insurances should cover the cost of Damon Clear, however, Gire Orthodontics will always verify benefits as a courtesy to our patients prior to initiating treatment.