Damon Smile
We are pleased to offer Damon Smile braces, which use a slide mechanism to hold the archwire rather than traditional brackets and ties. This reduces the amount of pressure exerted on the teeth, allowing the teeth to move more freely, quickly, and comfortably. Thanks to these innovative braces, achieving your perfect smile is faster and easier than you ever thought possible!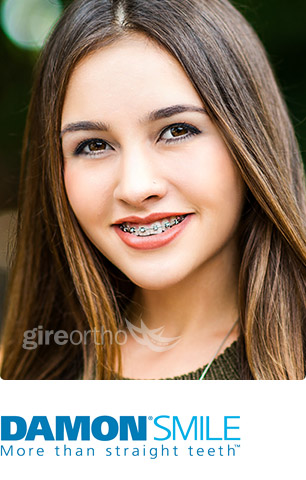 A world without ligature ties!
A specialized slide or door takes the place of elastics in Damon braces to help the wire guide teeth into place. These slides or doors help reduce the amount of pressure being placed on the teeth, and, as a result, treatment with Damon Smile is often faster and requires fewer adjustments than traditional braces.
Comfortable, Convenient Technology
Damon Smile facilitates healthy tooth movement, while minimizing discomfort and creating beautiful Damon Smiles that last a lifetime! Without the need for ties, there's no need for tightening. Damon Smile works quickly, but that doesn't mean you'll feel it in your mouth – the system uses gentle, low-friction force that makes for a much more pleasant orthodontics experience for you.
The system makes the smile
Damon Smile is not just about revolutionary braces and wires; it's a completely new approach to treating patients. Light, shape-memory titanium wires gently guide the teeth to their ideal locations. The system is discreet, comfortable and easy to keep clean. And best of all, Damon Smile is available in clear brackets for patients who want a great smile without sacrificing aesthetics.
While treatment varies from case to case, treatment time with Damon Smile is typically much faster than with conventional braces. Also, far fewer appointments are required during treatment, making your Damon experience as convenient and hassle-free as possible.