La Habra And Chino Hills Certified Invisalign Provider
If you want a beautifully straight smile but don't want the hassle of braces, consider Invisalign – the clear, comfortable teeth straightening option. Dr. Robert Gire is a certified Invisalign Provider serving patients in La Habra and Chino Hills, and provides complimentary consultations.
Check Out Our Invisalign Reviews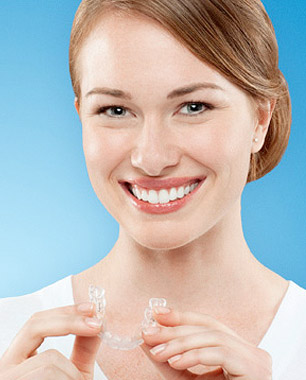 What is Invisalign?
Invisalign is the invisible way to straighten teeth using a series of clear, removable aligners that are made of a comfortable plastic. The aligners are made to fit directly over the teeth, and are removable for eating, drinking, brushing, and flossing. More than 70% of orthodontists in both the US and Canada are certified Invisalign providers, treating more than 2 MILLION patients with the unique system.
Why would I choose clear aligners?
Invisalign offers many advantages over traditional braces. Not only are the aligners invisible, they are also removable. That means you can still eat and drink without altering your diet while in orthodontic treatment. There is no metal to cause abrasions in the mouth and follow-up appointments are quick because there are no wires to adjust. Invisalign utilizes a 3D modeling program that allows you to envision your perfect smile before your treatment even begins.
How does Invisalign move the teeth?
Invisalign uses a series of aligners, each perfectly calibrated to achieve a certain movement. You will wear each aligner set for approximately seven to ten days, for 22 hours a day. Aligners should only be removed when eating, drinking, brushing, and flossing. The aligner sets will guide your teeth, little by little, over the course of treatment, resulting in your ideal smile. You'll visit us about once every six to eight weeks to ensure that your treatment is progressing as planned.
Is Invisalign right for me?
Invisalign has come a long way since it was first introduced and can treat a host of issues today that it couldn't have when it was first created. However, only an orthodontist will be able to determine if you are an ideal candidate for Invisalign treatment. If you have a more complex issue, you may benefit more from a different orthodontic treatment in order to achieve your desired results.
Can my child use Invisalign?
Invisalign Teen is a great option for many teenagers but it may or may not be a good option for younger adolescents who are just starting their orthodontic journey. For adolescent patients who take advantage of the benefits of two-phase orthodontic treatment, Invisalign may be useful as it allows for space gain for permanent teeth. But remember, Invisalign requires a high degree of patient compliance to ensure effectiveness so it is important that your child is responsible enough for this treatment option.
What makes Invisalign different from standard braces?
Invisalign offers patients a way to discreetly straighten their teeth which is often very appealing to teen and adult patients. There are no brackets or wires to irritate the inside of the mouth and the aligners are made of smooth plastic that won't irritate lips and cheeks like metal braces.
Likewise, you won't have wires that need to be tightened at your follow-up appointments. Instead, you'll simply switch to a new set of aligners when you're ready. Each set will be specially calibrated to move your teeth to a specific location, so the end result is a perfectly straight and ideally aligned bite.
You'll need to visit your orthodontist every six to eight weeks to be sure your treatment is on track and to allow your orthodontist to make any adjustments as needed.
Why should I choose Gire Orthodontics as my Invisalign provider?
Dr. Gire is dedicated to providing exceptional results for every patient he treats and is proud to be an Invisalign Provider for over 15 years. He has extensive experience with Invisalign meaning you can rest easy knowing you are in the hands of an expert. Dr. Gire is also a board-certified orthodontist, which means he is dedicated to the very best in orthodontic treatment and has the knowledge and skill to deliver exceptional results for every patient he treats.