These aren't your mama's braces!
Teenagers may cringe upon hearing the phrase, "you need braces" but we promise this is the beginning of a beautiful relationship that will have you showing your new smile off to everyone you meet! Today's braces are more sophisticated and come in more options than ever before so you don't have to worry about being tagged with the nickname metal mouth anytime soon.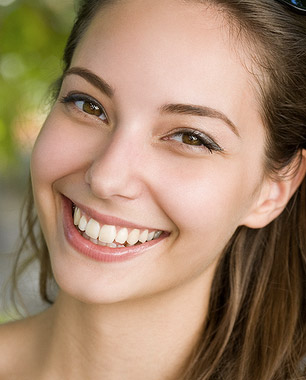 Braces Your Way
Gire Orthodontics offers a host of treatment options so there is sure to be one that can fit your lifestyle and your family budget! We offer:
Ceramic braces
Clear aligners
Metal braces
Self-ligating braces
Lingual braces (braces behind the teeth)
Aligners
No matter what option you choose, today's options are designed to make it easy for you to look and feel good during treatment.
How long will I have to wear braces?
We can't provide an exact timeline for how long treatment takes because there are several factors that go into treatment times. If you have had early interceptive treatment you may see your second phase of treatment fly by. That's because your mouth will be ready – your jaw, arches, etc. have been guided previously and they will likely already be closer to their ideal locations to help your permanent teeth find their new homes.
The severity of your issue will also play a role in how long your treatment takes. The more severe your issue, the longer you may be in treatment (and why we often recommend early interceptive treatment to help us create the best environment for the permanent teeth to erupt).
You are also an important factor in how long your treatment takes. You are in fact an active participant in your treatment and how well you follow your care instructions will have a direct correlation to how well your treatment progresses. If you have been prescribed rubber bands, for instance, it's crucial that you wear them as directed so the desired movement can be achieved.
It is important to remember that every smile is unique and will react to treatment differently. This is something Dr. Gire cannot account for prior to treatment beginning. With that in mind, it is important not to compare your treatment times to anyone else's. No two bites are the same and no two people will have the exact same treatment.
Teen Orthodontics FAQ
Why do I need orthodontic treatment? Orthodontic treatment creates more beautiful smiles, but also healthier ones, as well. Crooked, crowded and misaligned teeth are harder to keep clean. This makes you more susceptible to decay and gum disease. Not only that, a misaligned bite places an uneven amount of pressure when you bite down. This can cause your teeth to chip or crack, and can cause issues that will send you to your dentist's office more often.
What are the treatment options available? We know the teen years can sometimes be rough, and adding braces on top of that can just seem unfair. But the good news is, today's braces are more aesthetically pleasing than ever before. Gone are the days of being called a metal mouth. Even if you do opt for metal braces, the brackets are sleeker and more efficient than ever before. You can also choose from clear and ceramic options, as well as clear aligners to ensure your treatment is as inconspicuous as possible.
What is Invisalign Teen? Invisalign Teen is the almost invisible way to straighten your smile. The treatment consists of a series of clear plastic aligners that are used in succession to move your teeth to their correct locations. Each set is perfectly calibrated to achieve a certain movement, so at the end, you will have your ideal smile and bite. The aligners are removable, so you can brush, floss, eat and drink as normal. And the aligners are comfortable and virtually invisible when in your mouth. You'll wear each set of aligners 22 hours a day for approximately two weeks before moving on to the next set.
Will anyone know if I forget to wear my aligners as prescribed? Yes! Since clear aligners are removable, it can be easy to forget to wear them. But Invisalign Teen has a built-in compliance indicator to let us know if you have been wearing the aligners or not. Remember, you can only achieve your new smile if you wear the aligners as directed.
How will orthodontic treatment impact my daily life? This answer partially depends on the treatment option you choose. Bracket and wire braces will have a bit more of a day to day impact than aligners will, but both options require dedication and patience.
With bracket and wire braces, you'll not only have to pay closer attention to brushing and flossing, but to your eating habits as well. Eating anything too hard, sticky, chewy or crunchy can pull the brackets loose or damage the wires. But don't worry, your treatment will go by in a flash and in no time you'll be back to enjoying your favorite foods.
If you choose clear aligners, you won't have to change your diet, but you will have to follow all care instructions for them. Remove the aligners whenever you eat or drink anything but plain water. Rinse your aligners before placing them back in your mouth, and always try to brush your teeth after eating to avoid trapping food particles in between your teeth and the aligners. Wear your aligners exactly as directed by your orthodontist. Remember that you can only get the smile of your dreams if you remember to wear the aligners.
How long does treatment take? Unfortunately, there isn't a cut and dry answer to this question. Some people can be in treatment for as little as 6-9 months, while others may see themselves still in treatment 24 months later. The length of your treatment depends not only on the skill of your orthodontist, but on how severe your issue is. If you've had previous interceptive treatment, you may see your treatment time breeze by. This is because in your first phase of treatment, we created the ideal environment for your permanent teeth to erupt, and we've made it so your straightening phase can be more efficient and effective.
Your orthodontist will be able to provide an estimate on how long you can expect treatment to take, but this is only an estimate. We cannot know how your smile will react to treatment until treatment begins. You also play an important role in keeping your treatment on track. It is crucial to follow all of your orthodontist's directions for care so you can keep your treatment moving along.
Will braces hurt? Getting your braces placed will be a painless procedure, however, it will take your mouth some time to acclimate to having the braces in your mouth. Your teeth may feel tender or sore for a couple of days after getting your braces on. You may also notice that your lips, cheeks and tongue may become a bit irritated as they get used to the metal in your mouth. Orthodontic wax can help. You can take an over-the-counter pain reliever to help with any soreness, and rinse your mouth with warm saltwater. In no time, though, your mouth will be used to your braces.
If you wear aligners, the aligners themselves are made of a smooth plastic, so they should not be uncomfortable. However, if there are any areas that feel rough, let you orthodontist know so we can correct this for you.
Will I have to wear a retainer after my braces? Yes, every orthodontic patient will need to wear a retainer after their braces or aligner treatment. This is important because without the retainer, your teeth may drift back to their original places. The periodontal ligament is elastic, and until it gets a chance to get used to having everything in their new locations and the bone can solidify again, your teeth may drift. A retainer does exactly what it's name implies – retains your teeth.
Please contact our practice to schedule your next orthodontic checkup.