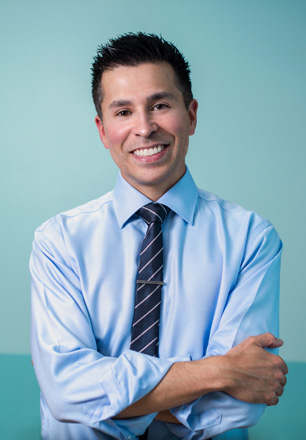 Robert Gire, DDS, MSD
I love being an orthodontist. I am so fortunate to have found a profession that is so uniquely rewarding. Through my training and residencies, I've learned that a good orthodontist needs to possess several attributes: a keen eye for angles and spatial relationships, excellent listening and communication skills, and the ability to balance theoretical and practical concerns. A smile is so important, but so is how that smile is framed by the face. I understand the important role teeth play in proper facial support and symmetry, so I try to avoid removing teeth whenever possible.
The orthodontic world changes rapidly, so it's important to stay current on the newest treatments, materials and technology available. This ensures I can provide the best care to my patients.
I like to think of myself as a student of life – learning is so important and every day my patients teach me something new. That makes this the best job to have and I love it.

Education and Continuing Projects
University of Wyoming

– Bachelor of Science in Biology, Bachelor of Science in Zoology and Physiology

University of Southern California School of Dentistry

– Doctor of Dental Surgery, induction into OKU (honorary dental society)

United States Air Force Academy

– Advanced Education in General Dentistry Residency

University of Colorado School of Dentistry

– Orthodontics and Masters of Dental Sciences
Diplomate of the American Board of Orthodontics
Chairman of the Board of the Friends of Family Health Center in La Habra
Board member at large for the Orange County Chapter of Smile for a Lifetime
As a former Captain in the United States Air Force, I had the opportunity to work as a general dentist for four years before returning back to Colorado to specialize in orthodontics. Because of my experience as a general dentist, I can make more informed decisions regarding diagnosing and treatment planning. That means I can provide each patient with all of their options, without guessing about possibilities. While working as a dentist in the Air Force and traveling around the world to numerous bases, I learned much about oral surgery, periodontics, and restorative dentistry.
Currently, I am an assistant pre-clinical lab instructor at the Ostrow USC School of Dentistry. As an instructor, I have developed a deeper understanding of my profession, which in turn only benefits my patients that much more.
Professional Memberships
American Board of Orthodontics – Diplomate
American Association of Orthodontists
Pacific Coast Society of Orthodontists
American Dental Association
California Dental Association
Orange County Dental Society
In the Office
Nothing is more rewarding than seeing a patient's confidence grow during treatment. Too many children and even adults are embarrassed to show their smiles. By the end of treatment, their faces light up and you can see how excited they are to flaunt their beautiful smile and increased self-esteem.
It's normal for patients to feel nervous or even a bit scared before treatment begins, but my team has a gift for making everyone feel safe, comfortable, and welcome. They know when to offer a joke or a reassuring hand. Everyone deserves a smile they can be proud of, and our job is to deliver that dream.
At Home and In the Community
I am originally from Cheyenne, Wyoming, and I am proud to call Chino Hills my home. My beautiful wife, Dr. Elizabeth Tsay, is an optometrist and we love being active in our community. We have a 3 ½ year old daughter named Kaylee and another little princess, Ellie, who is 1 ½ years old. We enjoy traveling together and exploring new places around the world. I can also be found by the beach or at home relaxing with a good movie.
The Chino Hills and La Habra communities have been very welcoming. Because of that, it's very important to us that we do whatever we can to give back. I support many local schools, businesses, and organizations. I am also one of three orthodontists in Orange County who do pro bono cases for Smile for a Lifetime Foundation, which provides free orthodontic treatment to teens whose families may not be able to afford braces. It is extremely rewarding work and we're very fortunate to be a part of such an organization.