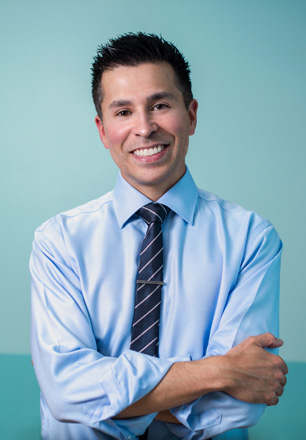 Robert Gire, DDS, MSD
Dr. Robert Gire grew up in a very modest household and never had the opportunity to get his teeth straight as a child. His smile was very crowded and not pleasing in appearance. During his preparation for dental school interviews, while most students were practicing what they were going to say, Dr. Gire was trying to figure out a way to speak without showing his teeth. They were that bad. In his mind he kept thinking, nobody goes to a dentist with bad teeth or to a dermatologist with bad skin. He truly felt that his crippling smile would definitely prevent entrance in the dental school. Luckily he was accepted and he proceeded to see an orthodontist immediately to seek treatment after the program started.
That is why Dr. Gire strongly and emphatically believes all children and adolescents should absolutely have the opportunity to correct their smile. The confidence and self-esteem that comes from a nice smile is immeasurable and no child or young adult should have to endure hiding their smile and thwarting their personality. This is why he strives to make things affordable for any family budget while not compromising on board-certified care.
Smiles are so unique and personal. Everyone has an idea of what the ideal smile and bite look like to them and not everyone wants the same smile or the same goal. Orthodontics is not a cookie-cutter profession where one treatment plan fits all. The key is to fit the desired smile that's being framed by the individuals face and skeletal composition. Dr. Gire understands the role teeth play in creating properly facial support and symmetry and his orthodontic approach always takes this into account.
Dr. Gire knows that the orthodontic world is rapidly changing, so he is dedicated to staying up to date on the latest treatments, technology and materials available. He is the clinical director of a well-known international orthodontic manufacturing company and he has maintained a teaching position at the University of Southern California, Ostrow School of Dentistry teaching orthodontics. Staying involved with these two entities allows Dr. Gire and his team to always provide the most up-to-date and very best care to their patients.
"I like to think of myself as a student of life – listening and learning is so important. Every day my patients teach me something new. That makes this the best job to have and I love it." Dr. Robert Gire

Education And Professional Memberships
University of Wyoming – Bachelor of Science in Biology, Bachelor of Science in Zoology and Physiology
University of Southern California School of Dentistry – Doctor of Dental Surgery, induction into OKU (honorary dental society)
United States Air Force Academy – Advanced Education in General Dentistry Residency
University of Colorado School of Dentistry – Orthodontics and Masters of Dental Sciences
Diplomate of the American Board of Orthodontics
Chairman of the Board of the Friends of Family Health Center in La Habra
American Association of Orthodontists
Pacific Coast Society of Orthodontists
American Dental Association
California Dental Association
Dr. Gire served as a Captain in the United States Air Force, where he had the opportunity to work as a general dentist before returning to Colorado to complete his specialty in orthodontics.
Because of this experience as a general dentist, Dr. Gire is able to have a more complete understanding when diagnosing and treatment planning his patients. Patients can be assured they are being presented all of the options that will best meet their needs without any guesswork. Dr. Gire's experience in the Air Force gave him unique knowledge about oral surgery, periodontics, and restorative dentistry.
In the Office
Dr. Gire is not only passionate about orthodontics, he surrounds himself with like-minded dental assistants and a caring and compassionate administrative team. It's his primary goal to treat all patients with respect and exceptional customer service and he expects nothing less from his hand-picked team of dental auxiliaries in the community. All patients and visitors should feel like a member of the Gire Orthodontics family when they're in our La Habra or Chino Hills offices.
It's still normal for patients to feel a bit nervous or even a tiny bit afraid before their treatment begins. The team at Gire Orthodontics work hard to ensure every patient feels safe, comfortable, and welcome. Whether you need a comforting hand, reassuring words, or even a corny joke (Dr. Gire is full of them), the team is ready to put you at ease!
The private offices of Gire Orthodontics in La Habra and Chino Hills are designed to be efficient while ensuring absolute comfort. Whether it's our state-of-the-art technology rich surroundings to our soft, relaxing dental chairs, we've got you covered. On the financial side, we have the most flexible payment options that allow you to select your own down payment and your own monthly payment. We also have nice family discounts, military discounts, and generous paid-in-full options as well. Dr. Gire and his team believe everyone deserves a smile they can be proud of and we work hard to make our patient's smile dreams come true.
At Home And In The Community
Dr. Gire grew up in beautiful Cheyenne, Wyoming and now calls Orange County is home. His wife, Dr. Elizabeth Tsay, is an optometrist and works in the Kaiser system in Southern California. The pair love being active in their community and can be seen doing many volunteer activities to support the communities that have supported Gire Orthodontics over the years. They are parents to two energetic and bilingual daughters (they can speak, read, and write Mandarin), Kaylee and Ellie. The Gire family loves to travel and explore new places around the world. When not at work or on the go, Dr. Gire can be found at the beach with his family, at home relaxing with a good movie, or learning new tricks on his bike (he is a competitive BMX freestyler). The Gire-Tsay family also proudly supports may schools, organizations and businesses and Dr. Gire is Board Chair for a non-profit Federally Qualified Health Center in La Habra that provides a medical and dental home for those that are financially challenged.