Dr. Gire is a Certified Invisalign Teen Provider
We know the teen years can be hard enough without a mouth full of metal. Luckily for you, Gire Orthodontics is a certified Invisalign Teen provider.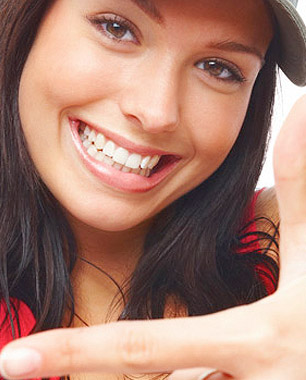 I have other things to stress about… now I need braces too?
We know teens lead busy and increasingly stressful lives. Your orthodontic treatment should fit seamlessly into all of that – not stress you out more! Invisalign Teen offers you a way to get the smile you've always wanted but in a discrete and comfortable way. Invisalign Teen aligners are a perfect fit for your lifestyle because the aligners are:
Clear
Removable
Comfortable
Customized just for you
Hard and Crunchy Foods … No Problem!
Regular braces requires some alterations to our daily diet. Foods that are too hard, sticky, crunchy or chewy can damage your brackets and wires. Because Invisalign aligners are removable, you can simply pop them out before you eat. That means you can enjoy all your favorite foods while in orthodontic treatment.
Getting straight teeth is easy and it won't alter your lifestyle!
Invisalign aligners are comfortable, durable, and can fit in with any of your extracurricular activities. Whether you play sports or an instrument, you won't have to worry about Invisalign getting in your way.
OK, so what do I need to know if I choose Invisalign Teen?
Invisalign Teen is highly efficient and effective at moving teeth to their desired locations. However, there are some things you should know before settling on this as your option.
Invisalign requires the highest degree of patient compliance. Because the aligners are removable that means the patient has to be responsible to wear the aligners the recommended amount of time and be prepared to switch to a new set according to the schedule provided by Dr. Gire. If you don't wear your aligners as recommended or stick to the aligner schedule, you may impact your final outcome. And yes, your parents and Dr. Gire will know if you aren't wearing the aligners. Invisalign Teen comes with special compliance indicators that can reveal whether you've been wearing your aligners as prescribed. The indicator is a blue mark that fades with wear so Dr. Gire can be sure you are following the guidelines and wearing the aligners as directed.
Invisalign treatment may come with buttons or attachments. Invisalign treatment has come a long way and with the introduction of buttons and attachments it is now able to treat more complex problmes than ever before. However, these may make your treatment slightly more noticeable to others and increase your compliance level.
You will still need to wear a retainer once treatment is completed. No matter what treatment option you choose, a retainer is important to maintain your beautiful new smile. Your teeth and mouth will need to get used to the result of your treatment and the retainer will ensure nothing moves.