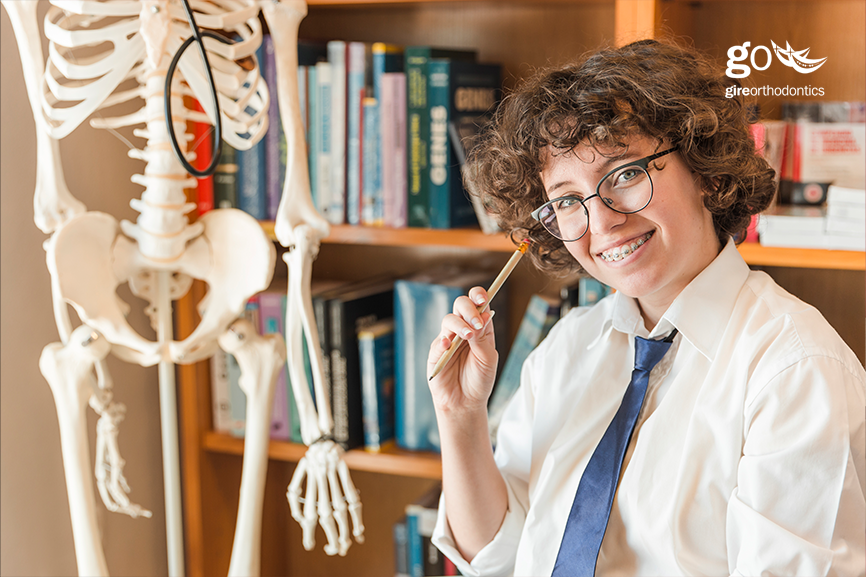 La Habra/Chino Hills, CA – Summer is over and we're back to the grind with another school year. If you're starting this school year in braces for the first time, it may take a bit of getting used to. How can you best navigate your school days and what should you do if your braces get damaged at school?
"We know sometimes unexpected things happen, such as a bracket becoming loose," says Dr. Robert Gire of Gire Orthodontics. "While something like this isn't an orthodontic emergency, it can be disconcerting. But if you have planned and prepared for instances like this, you can handle it easily."
So, how should you plan to navigate your school days while in braces?
Be prepared! At Gire Orthodontics we have an excellent Instagram page (Gire Orthodontics) that helps patients walk through some of the most common issues we've encountered at the office. Under the "highlights" section, we have a tab for both Damon and for Traditional braces and it walks you through how to deal with that loose bracket or pokey wire in very short and simple videos. We suggest reviewing that after the braces are placed to be prepared.
The best way to avoid damaging your braces is to know how to take care of them, and to be prepared to do that even on the go at school (see above). Carry essential items in a braces care kit and carry it with you during the day. Pack items such as a travel toothbrush and toothpaste, extra elastics, orthodontic wax, dental floss, a small mirror, a nail clipper, a toothpick, and a case for any removable appliances.
Remember what you can eat! One of the biggest culprits of damage to braces is from eating foods that are on the do-not-eat list. Your brackets are adhered using a very strong bonding agent but they can come loose, especially if you eat foods that are too hard, sticky, crunchy, or chewy.
Wear a mouthguard. If you play contact sports or are involved in any activity where a blow to the mouth could occur, a mouthguard is essential. This will prevent damage to your braces as well as to your mouth.
Know what to do if something goes wrong. Sometimes damage to the braces can occur. These are rarely orthodontic emergencies and can often be handled on your own until you can get into our office (see item one from above). But knowing what to do is essential. Again, please refer to our videos on our Instagram page:

Loose bracket – If a bracket comes loose, but is still attached to the wire, you can use orthodontic wax to hold the bracket in place until you can get in to see your orthodontist. Another option is to remove the bracket from the wire.

Broken wire – on occasion, the archwire can break, which can lead to injury to your mouth. If this happens, you can use a pair of clean nail clippers to snip the wire to relieve discomfort.

Protruding wire – If your archwire is poking your cheek or gum, you can use clean nail clippers to cut it or use orthodontic wax to cover the sharp end.
"The most important thing for you to do is take proper care of your braces, even during the business of a school day, and pay attention to the food you eat," says Dr. Gire. "You are the first line of defense in taking care of your braces and ensuring your treatment stays on track. We're here to help you, and correct any issues should that arise. But if you are taking precautionary measures and know what to do if something happens, it will make your time in braces much smoother."
If you ever have any questions or concerns about your treatment, call your orthodontist to discuss. Gire Orthodontics is always available to answer questions and address concerns. Simply call 562-690-1199 (La Habra) or 909-393-9911 (Chino Hills).