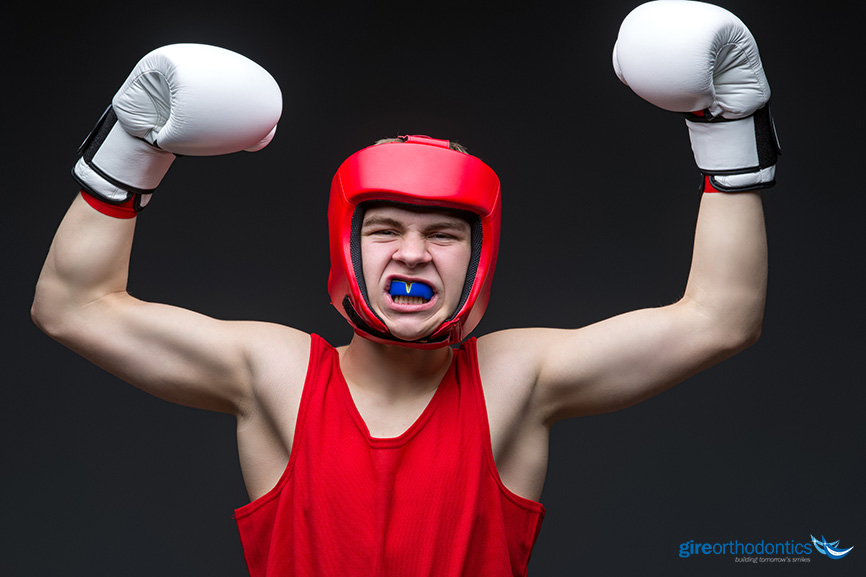 La Habra/ Chino Hills – As the New Year gets underway, spring sports will be starting up before we know it. Play it safe this year by protecting your smile with a mouthguard.
"The American Dental Association estimates that nearly one third of all dental injuries are sports-related," says Dr. Robert Gire, an orthodontist in the La Habra/Chino Hills areas. "While those in high contact sports know the importance of mouthguards, there are a host of other athletes that should also be wearing mouthguards."
One study of high school athletes found that nearly 75% of injuries occurred when mouthguards weren't worn, and 40% occurred during baseball and basketball.
Athletes playing high contact sports such as football, hockey, and lacrosse should always wear a mouthguard. But, there are many incidental contact sports which athletes should consider mouthguards, as well. They include baseball, softball, basketball, wrestling, soccer, and volleyball.
"Wearing a mouthguard is especially important for athletes who wear braces," says Dr. Gire. "Even a minor bump to your mouth could result in an injury due to the appliances. The brackets of more traditional braces can cause lip and cheek injuries that a player without braces might not experience."
Mouthguards will help cushion a blow to the face, which can then minimize the risk of broken teeth or injuries. Mouthguards should be considered essential pieces of equipment for all athletes in high contact and incidental contact sports.
There are a few different types of mouthguards.
Custom made mouthguards can be created for you by your dentist or orthodontist. While they are the most expensive option, they will provide the best protection because they will be made specifically for your smile. But remember, we're moving the teeth to new positions so the mouthguard won't fit well after a few weeks and a new one will need to be made.
Boil and bite mouthguards can be found at most sporting goods stores. They will be softened by placing them in boiling water, then put in the mouth and bitten down on to form to your smile. It is important to carefully follow the instructions to ensure this is done properly. If you choose to go this route, Dr. Gire recommends that you don't form it too well, that way the teeth have room to move to their new positions. The American Dental Association recommends CustMbite MVP and CustMbite Pro brands.
Stock mouthguards can be found at sporting goods stores and drug stores and will be the least expensive option. Some brands tend to be a little bulky but there are good ones on the market.
"I believe that for all contact and even incidental contact sports, mouthguards should be mandatory," says Dr. Gire. "Especially for those in orthodontic treatment, it is important to protect your mouth. Damage to your teeth or your appliance may extend your treatment time and nobody wants that!"

To learn more about mouthguards or to discuss having Dr. Gire's office make one for your athlete, call the office at 562-690-1199 (La Habra) or 909-393-9911 (Chino Hills).