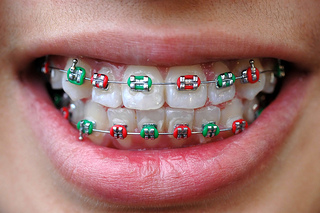 Braces are a rite of passage for many adolescents, and standard metal braces are still a commonly used option – both for their efficiency and effectiveness. For some patients who use traditional bracket and wire braces, tiny rubber bands or elastics may be required to provide the right pressure to guide your teeth to their ideal positions.
Rubber band wear is personalized to each patient because each smile is unique and the forces needed to achieve the ideal smile are unique, as well. But no matter where in your mouth the elastics are located, they will be attached from tiny loops from the lower to the upper brackets. If rubber bands are recommended to you, it is important that you wear them exactly as your orthodontist tells you so that your result will not be compromised. Your orthodontic team will explain how to wear and care for the rubber bands.
What's the purpose of rubber bands?
Rubber bands are used to help properly align your bite or to help your teeth move in different directions in order to straighten more quickly. The rubber bands will either go vertically or diagonally from a lower bracket to an upper bracket. The tension caused by the rubber band places the necessary pressure on the bracket to achieve the desired movement or correct the bite.
Rubber band will restrict the movement of your mouth – you won't be able to open your mouth all the way, so you will want to remove them when you eat. If you try to open your mouth too wide, you could snap your rubber bands so be careful!
If you don't remember to wear your elastics as recommended by your orthodontist, you could impact your final results. The main reason patients are instructed to wear rubber bands is to correct an imperfect bite, but they may also be recommended to open or close spaces.
Some patients may be asked to wear their rubber bands full time, which means they should only be taken out to brush, floss and eat. Other patients may only have to wear rubber bands part-time, which could be overnight or at times during the day.
Do's and Don'ts of rubber bands
DO – Wear the rubber bands as recommended by your orthodontist
DON'T – Double up on elastics – this can actually damage the root of your tooth.
DO – Carry extra rubber bands in case of breakage and to keep your elastics fresh.
DON'T – Overwear or overstretch your rubber bands because this will cause them to be less efficient.
DO – Wash your hands before removing or replacing your rubber bands.
If you ever have questions about wearing your rubber bands or you lose them or run out, please call our office. We're hear to help you keep your treatment on track!
If you opt for traditional bracket and wire braces, you will have tiny elastics or ligatures over each bracket. These rubber bands are different from the other type of rubber bands. Their job is to hold the archwire in place on each bracket. And these rubber bands come in a variety of colors, so your treatment can really be as unique as you are!
What do your rubber band colors say about you?
Many of our adolescent patients love personalizing their treatment through colorful rubber bands. Your ligature elastics will be changed at each appointment, so you can change your color scheme up at every visit. Choose your favorite colors, your school colors, favorite sports team colors, or change it up based on the season or holiday.
Red shows that you are a take charge, forward thinking person.

Blue shows you exhibit integrity, and can be calm and relaxing.

Green represents growth, balance and level-headedness.

Purple represents fun and creativity.

Orange indicates optimism and abilty to thrive in social situations.

Pink shows a caring personality and is a romantic colors.