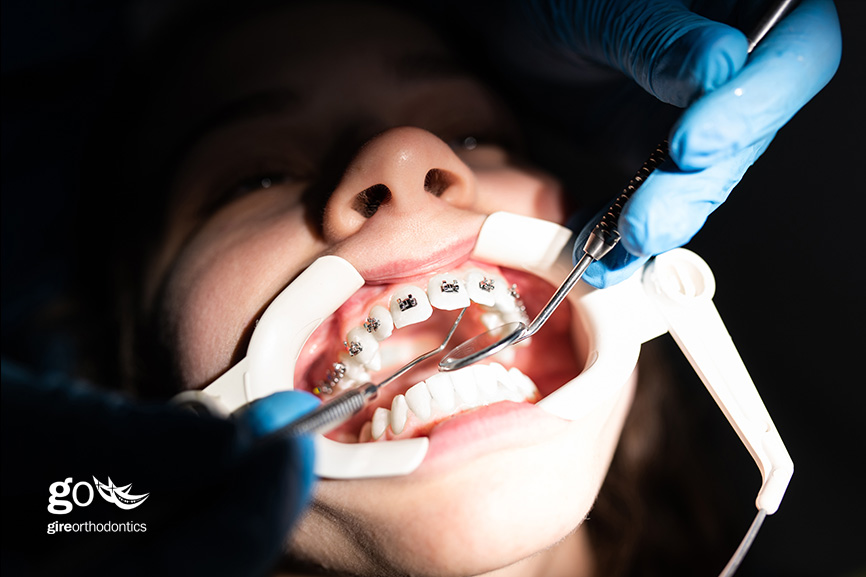 La Habra/Chino Hills, CA – If you're about to start your braces journey you no doubt have some questions. One of the most common things new patients want to know is what to expect when getting your braces placed. How long will it take to put braces on? Dr. Robert Gire of Gire Orthodontics explains what you need to know about the day you get your braces one.
The Simple Process of Getting Braces
"Getting your braces put on is a very straightforward and easy procedure," says Dr. Gire. "We typically tell patients to plan on being in our office for one to two hours. The process will go by quickly and you'll be out of our office in less time than it takes to watch a movie."
What Happens During the Braces Placement?
So, what happens during that time?
1. Cleaning and Polishing Your Teeth:
Your teeth will be cleaned and polished. While it's great to start your treatment with a clean smile, it's not just about that. Polishing your teeth provides the right surface to allow for the bonding material to stick to your enamel. This is important so that the brackets can stay in place throughout your treatment.
2. Applying the Bonding Material:
After your teeth are polished and conditioned, the bonding material is applied to each tooth. While it may not taste great, it is completely safe so don't worry if you swallow a bit during the process. A small amount of the glue will be put on each tooth and then cured with a special light. This ensures the glue sets properly. A bracket is then placed on each tooth.
3. Attaching the Wire:
The next step is attaching the wire. The wire is what places the force needed to guide the teeth, so it has to be attached properly to each bracket. The wires are held in place with a tiny rubber band (or ligature) that wraps around each bracket. This is where you can show off your personality – the rubber bands come in a rainbow of colors.
4. Final Adjustments:
Once the archwire has been attached all the way around, it will be clipped to ensure it doesn't poke out too far and cause irritation to your gums or mouth.
Is the Procedure Painful?
"Having braces placed is a completely painless procedure," says Dr. Gire. "You shouldn't feel any discomfort during the process. You may, however, feel a bit after your braces are placed. This can last for a few days after getting your braces."
Managing Discomfort After Braces Placement
If you do experience discomfort after getting your braces, you can take an over-the-counter pain reliever, such as ibuprofen or naproxen, to help. Oral anesthetics such as Orajel can also offer relief.
Dietary Recommendations for New Braces
Stick to soft foods for the first few days, too. Your mouth is getting used to the work the braces need to do, so take it easy in these first days. Eating foods such as yogurt, oatmeal, scrambled eggs, mac and cheese, bananas, smoothies, and ice cream will ensure you don't have to do much chewing while your mouth is trying to acclimate to the changes.
Dealing with Sore Areas
You may notice some sore areas in your mouth where the brackets have rubbed. The inside of your mouth is sensitive so it will take a bit of time to get used to the metal. Orthodontic wax is great to cover any areas that are causing discomfort.
Adjustment Period and Encouragement
"All patients have a bit of an adjustment period after their braces are placed," says Dr. Gire. "In those first few days, it can seem like you'll never be used to it. But I promise that in no time, you won't even notice the braces are there. You'll be so excited about seeing your new smile that you'll barely remembering the annoyance in the beginning!"
Begin Your Orthodontic Journey
If you are interested in learning about how orthodontic treatment can help you or you are ready to start your orthodontic journey, call Gire Orthodontics today at 562-690-1199 (La Habra) or 909-393-9911 (Chino Hills).