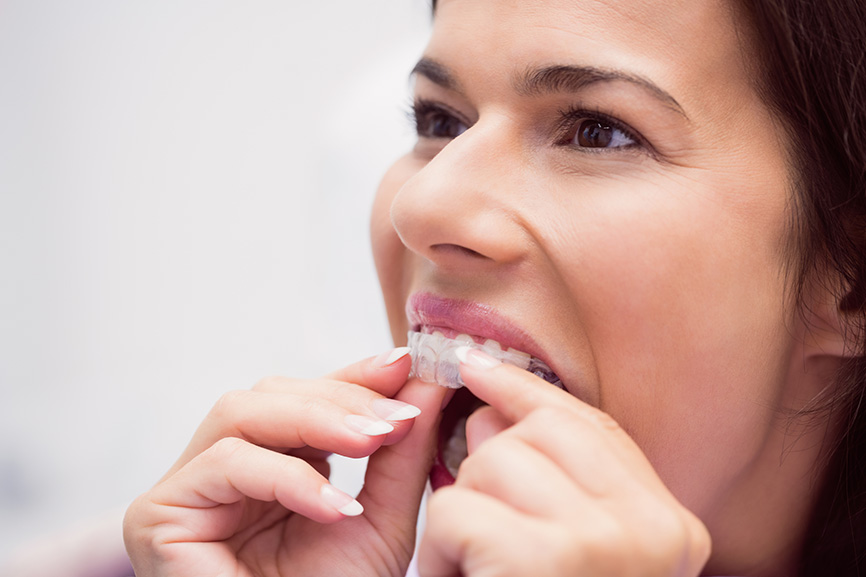 Chino Hills And La Habra, CA – Clear aligner therapy is increasing in popularity and for good reason. Aligners are clear, comfortable, and removable making them a popular choice for teens and adults. But like any other orthodontic treatment, it can take time to get used to wearing the aligners or trays. Dr. Gire of Gire Orthodontics offer a couple of aligner options, including Spark, Invisalign, and Clarity. Below are some tips for a smooth transition.
Remember to wear the aligners. The fact that they are removable makes clear aligners a popular choice. Patients love that they don't have to alter their diet or take extra time brushing and flossing around brackets and wires. But being removable is also the biggest downfall of clear aligners. In order to be effective, aligners should be worn a minimum of 22 hours a day – even when they feel uncomfortable. With traditional braces, you don't have the option of removing them to relieve discomfort, but with Spark, Invisalign, or Clarity you may be tempted to take them out if they feel uncomfortable. However, they only work when they are in the mouth and we promise that even though there may be times of discomfort, it's all for a good reason.
Clean your aligners the right way. If you don't properly clean your aligners, even though each set is only worn for only seven to ten days, they can become discolored or start to smell. We recommend cleaning your aligners at least twice a day – make it a habit during your morning and evening brushing. Bacteria can build up on the aligners throughout the night and day, so it's very important to clean them well. To prevent saliva and plaque buildup it is also important to rinse them every time your remove them from your mouth. A clear anti-bacterial soap coupled with a toothbrush dedicated to clean the aligners can help keep your aligners clean. When you brush your aligners, only use a soft-bristled brush and avoid using anything abrasive. This could scratch them, creating areas for debris and bacteria to live and thrive.
Never leave your aligners out and exposed. Keep a carrying case with you to place them in whenever you take them out to eat. Leaving them out can expose them to more bacteria and increase your risk of losing them.
Practice, practice, practice. It can be difficult in the beginning to place and remove your aligners. We recommend taking some time the first few days to practice placing them in and removing them until you get comfortable. Remember, the aligners are supposed to fit snugly over the teeth in order to work properly, so removing them can take some getting used to.
Talk to yourself. Because the aligners fit directly over the teeth you may notice that in the first day or two your speech seems a bit altered. It will take your tongue some time to get used to placement for certain sounds so don't be afraid to practice talking with them in.
Be patient. Clear aligners are intended to offer a more comfortable tooth moving experience but that doesn't mean it will be without discomfort. Orthodontics is the process of moving teeth through bone to new locations and that isn't always the most comfortable process. You will have days, especially when a new aligner set is first placed, where there will be discomfort. But this is a good thing, we promise! It means your aligners are doing exactly what they should be doing.
Clear aligner therapy can offer excellent results for patients who are looking for a more discreet way to get the smile of their dreams. To learn more about clear aligners, call Gire Orthodontics Chino Hills office at 909-393-9911 or Gire Orthodontics La Habra office at 562-690-1199.