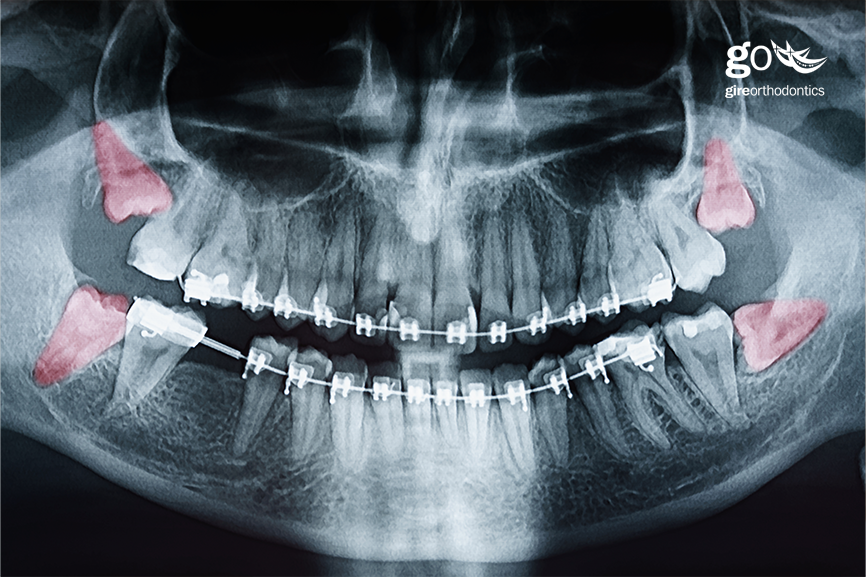 La Habra/Chino Hills, CA – Wisdom teeth are the third and final set of molars that typically erupt in the late teen or early adult years. Once upon a time, these teeth may have served an important purpose because they could serve as "replacement teeth" for teeth that had been lost due to poor diet or trauma. But today we don't have much need for them and they are often removed simply because there isn't enough room in the jaws to accommodate them. Because these teeth erupt after many people have already undergone orthodontic treatment, some people may wonder if the erupting wisdom teeth will impact their newly straightened smile.
"The general consensus in the literature is that wisdom teeth do not have an effect on a final orthodontic result," says Dr. Gire. "As with anything else this should be looked at on a case-by-case individualized basis, however, wisdom teeth do not exert enough pressure to cause other teeth, except for the ones right next to the wisdom teeth, to become misaligned."
But that doesn't mean you may not have a smile or bite that alters as you grow. Your shifting smile is simply a matter of aging – and one of the prime times we start noticing a shifting smile is between the ages of 17-21, which is typically when the wisdom teeth are starting to erupt. And if you've already had braces when your wisdom teeth come in and you aren't dedicated to wearing your retainer as you should, you may believe a shifting smile is due to your wisdom teeth when it is in fact because you haven't worn your retainer.
But just because wisdom teeth may not impact your orthodontic result, that doesn't mean they don't need to be removed. For some people, they may have enough room for their wisdom teeth to erupt completely fine and there are no issues. However, for around 85% of the population wisdom teeth need to be removed for a variety of reasons.
Wisdom teeth sometimes only partially erupt, leaving a flap of gum tissue covering part of the tooth, leading to an increased risk of decay and gum infection
Wisdom teeth are likely impacted due to not enough space for them to erupt, which can be painful and lead to cysts, which could cause decay, infection, and other issues
Wisdom teeth are so far back in the mouth they are too difficult to properly brush and floss, leading to an increased risk of decay
But if you're one of the lucky group of people who have enough room and you don't have an issue, you can enjoy your orthodontic result without worrying that your wisdom teeth will shift your smile.
So, what's the best way to keep your teeth as perfectly aligned as the day your braces are removed?
"Wear your retainer," says Dr. Gire. "If you've had braces or clear aligner therapy and then your wisdom teeth erupt, don't worry – your smile shouldn't be impacted. But as you get older, your smile will naturally shift, and you may notice your bite is a bit altered. The best way to prevent this from happening has nothing to do with your wisdom teeth, but all to do with you. If you have retainers but don't wear them, your teeth will naturally begin shifting. Regular retainer wear, even years after your braces are removed, is the best way to ensure your orthodontic result is maintained."
For the best orthodontic outcomes, it is recommended that children should visit an orthodontist by the age of seven. This allows the orthodontist to diagnose issues and treat them at the time it will have the most impact. This includes monitoring the progress of the wisdom teeth and making recommendations as needed. If you are interested in learning more about orthodontic treatment from Dr. Robert Gire at Gire Orthodontics, call 562-690-1199 (La Habra) or 909-393-9911 (Chino Hills).