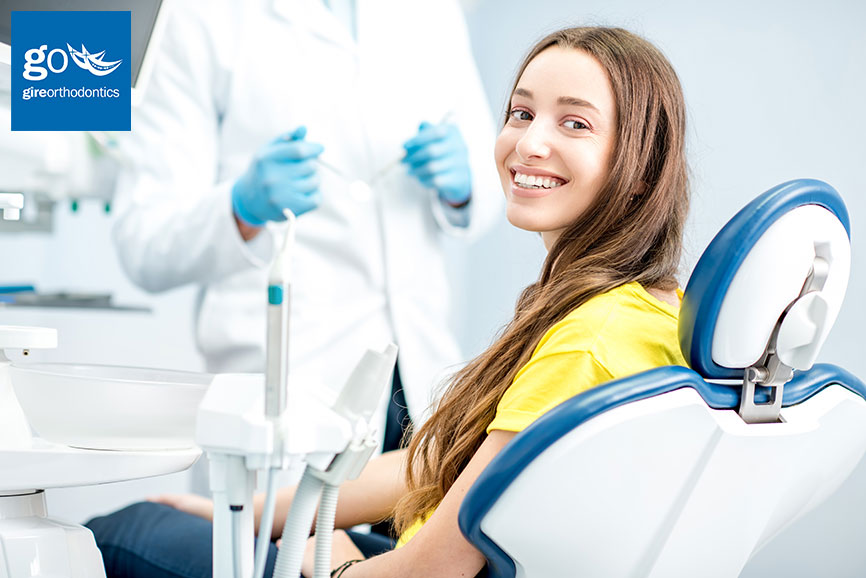 La Habra/Chino Hills, CA – Clear aligner therapy is gaining in popularity among orthodontic patients and for good reason. Aligners are discrete, comfortable, and more reliable than ever before. Today, there are more options than just Invisalign. Gire Orthodontics, serving patients in La Habra and Chinos Hills, uses both Invisalign and Spark aligners to treat patients. So what's the difference between the two?
"Clear aligner therapy is an excellent option for most orthodontic patients," says Dr. Robert Gire. "The technology behind it has become much more advanced and sophisticated so even patients with more severe malocclusions can utilize the treatment."
Invisalign
Invisalign was one of the first clear aligner therapy modalities to hit the market. Invisalign gained FDA approval in 1998 and since then has become a household name as an alternative to braces. In 2000, 75% of orthodontists in America were trained on using the Invisalign system.
Invisalign uses a series of clear aligners to gradually guide the teeth to their ideal locations. Invisalign aligners are created using cutting edge computer imaging technology. Orthodontists and general dentists around the country offer treatment to their patients.
Patients love Invisalign because the aligners are clear, making them virtually invisible to others. They are also removable so patients don't need to alter their diets or spend more time brushing and flossing while in treatment.
Each patient receives a series of custom created aligners and each set is worn for approximately 22 hours a day for one or two weeks before switching to the next set. Each set is perfectly calibrated to achieve a certain tooth movement by eliciting gentle but constant pressure. Each treatment plan is personalized to the individual patient and their specific malocclusion.
Spark
Spark aligners are one of the most discrete and comfortable aligners on the market today. Each aligner is hand trimmed to offer the highest level of comfort. Additionally, the material used to create the aligners may result in more effective and efficient movement, thereby leading to faster treatment time. Studies have shown that for some patients, Spark can be more comfortable and productive.
Spark aligners utilize high-tech 3D imaging just like Invisalign to create a custom treatment plan. The aligners are made here in Southern California so for Gire Orthodontics patients' interested in Spark, the turnaround time to receive their aligners is shorter and they can begin treatment faster.
The aligners work in the same manner as Invisalign, however, with one very big difference. Spark aligners are only available to orthodontists. That means the treatment is always in the hands of the most experienced and knowledgeable practitioner. Invisalign is available to general dentists, as well, and only requires a weekend certification course to begin using. Spark ensures your treatment is always in the hands of an orthodontic professional who knows the intricacies of how teeth move, and who has the experience guaranteed to offer the best results possible.
"At Gire Orthodontics, we use both Invisalign and Spark," says Dr. Gire. "But in my opinion, Spark is the next generation of clear aligners. I know many patients trust the name Invisalign, but Spark offers many advantages over Invisalign. The aligners are not only more comfortable, they are more stain resistant and they offer better tracking and smoother margins. It is a highly specialized and sophisticated system that requires the knowledge and skill of an orthodontist unlike other systems. We still offer both simply because of the name recognition of Invisalign. They see the commercials and ads in magazines and ask for them by name. My job is to explain the two options and let the patient decide which they feel is the best for their particular malocclusion. If they ask me which would be better for their particular case, I will certainly provide my opinion."
When it comes to your smile, you deserve the best – and that means treatment provided by a board-certified orthodontist. Spark Aligners guarantee your treatment will be provided by an orthodontist who specializes in helping patients achieve the smiles of their dreams every day. To begin your Spark journey, call Gire Orthodontics today at 562-690-1199 (La Habra) or 909-393-9911 (Chino Hills).