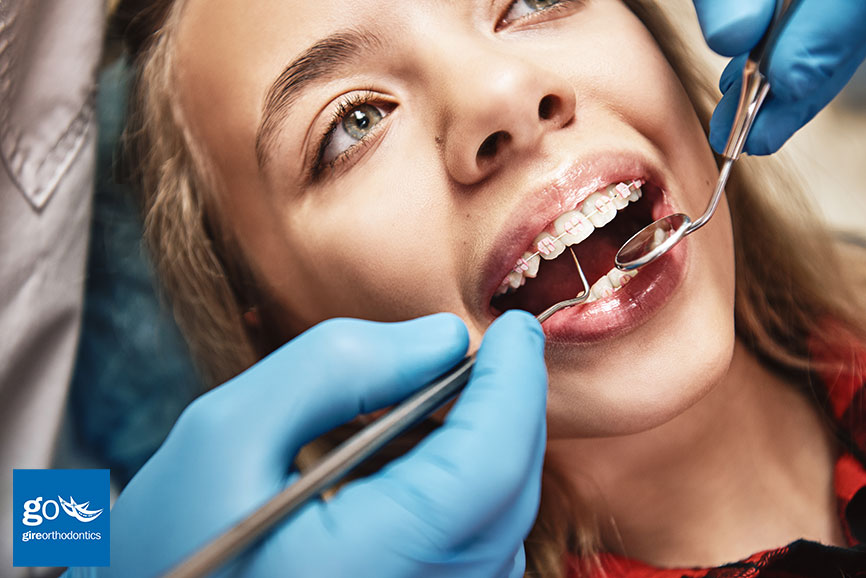 La Habra/Chino Hills, CA – Orthodontic treatment can be done at any age, however, one of the most important things is that the smile is healthy prior to beginning treatment. One of the most important things to do before seeking orthodontic treatment is to schedule an appointment with your general dentist to ensure your smile is healthy enough to receive orthodontic treatment. But if you need dental care once you've already started treatment, what happens?
Braces create a straighter more properly functioning smile that will also lead to a healthier smile. Crooked, crowded, and misaligned teeth can be harder to clean leading to an increased risk of decay and gum disease. While you are on your path to a healthier, straighter smile, you will need to pay closer attention to your oral care routine because the brackets and wires of braces create a lot of nooks and crannies in which food particles can get trapped. This can lead to decay if not cleaned properly.
So what happens if you need dental work during orthodontic treatment? Don't wait and get it done ASAP! If you experience dental decay during your time in braces and require a filling, that typically won't be a problem. Most dentists will be adept at helping patients who wear braces. However, braces can be difficult to maneuver around so depending on where the decay is, the wire or a bracket may need to be removed to adequately fill the cavity. Your dentist will work in conjunction with your orthodontist to ensure you receive the dental care you need without impeding your treatment time very much.
"Your oral care should always be a priority, especially so during orthodontic treatment," says Dr. Robert Gire of Gire Orthodontics. "You are working hard to get the smile of your dreams so don't let that hard work go to waste by forgetting to pay attention to your oral care routine. We work with each of our patients to help them understand the importance of caring for their teeth properly while undergoing orthodontic treatment."
To avoid the need for fillings or other dental work during treatment, follow these tips:
Brush your teeth at least twice a day, and if possible, after each meal or snack. This will help eliminate food particles that can get stuck in brackets which over time can lead to decay.
Floss at least once a day, taking the time to carefully thread the floss under the wire to reach in between every tooth.
If you absolutely can't brush after a meal or snack be sure to rinse your mouth with water to wash away any food particles.
Eat a well-balanced diet high in vitamins and minerals that can strengthen the teeth.
Maintain regular appointments with your general dentist, even while in treatment. Your dentist can ensure your smile stays healthy and tackle any issues before they become serious.
To learn more about how orthodontics can help you, call Gire Orthodontics today at 562-690-1199 (La Habra) or 909-393-9911 (Chino Hills).