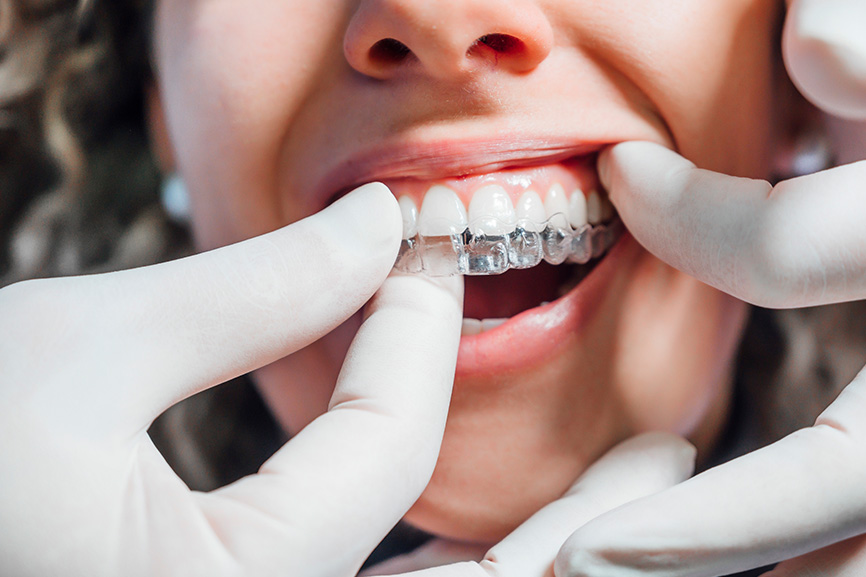 La Habra/Chino Hills, CA – Clear aligner therapy (CAT) is growing in popularity and for good reason. Patients love the ease with which they can straighten their smiles and that the treatment is now much more cost effective. If you are thinking about straightening your smile and are interested in learning more about clear aligners, Dr. Robert Gire of Gire Orthodontics has answers to ten of the most common questions concerning the treatment.
What exactly is clear aligner therapy or CAT? Clear aligners have revolutionized the way we think about orthodontic treatment. Patients no longer have to have metal brackets and wires to guide their teeth. Instead, clear aligners are made of clear smooth plastic and fit comfortably over the teeth. Treatment consists of a series of these aligners – each perfectly calibrated to achieve a certain movement. They are changed out approximately every seven to ten days. The aligners are virtually invisible, comfortable, and removable.
What are the types of clear aligners? At Gire Orthodontics, Dr. Gire uses Spark and Invisalign clear aligners. Invisalign is the most widely known brand as they were one of the first on the market and you've probably seen advertisements for them. But Dr. Gire also uses Spark aligners, an option he loves because Spark uses a clearer plastic, has smoother margins, and is made here in Southern California. Spark is only available to orthodontists and that means patients know they are in the hands of a skilled orthodontist when receiving Spark treatment. Invisalign aligners can be used by both orthodontists and general dentists.
How does CAT differ from braces? The first and most obvious way clear aligners are different is that they are clear – making them almost completely invisible when wearing them. Traditional braces are made of metal or a clear bracket material attached to each tooth and then a wire that is affixed to the brackets and used to guide the teeth. Clear aligners are also removable so they can be taken out when eating, drinking, brushing, and flossing.
How expensive is CAT? The good news is that the cost of CAT is now much more reasonable than when it first came on the market. In fact, CAT is often on par with traditional metal braces. Typically, CAT will cost somewhere between $3,500 and $5,000.
Can people of all ages use CAT? CAT can be used on patients of any age. However, due to its higher degree of patient compliance, CAT is typically recommended for patients in their teen years and older.
What happens if I change to a new set of aligners too soon? Your CAT will be perfectly calibrated to achieve your ideal smile in a certain number of aligner sets. Your orthodontist crafts an individualized treatment plan for every patient he or she treats, and it is important to follow it as directed. If you switch to a new aligner set too soon, your teeth may not "track" well to the aligners and your results may be altered. It is very important to follow the prescribed schedule your orthodontist recommends.
Can I take my aligners out for a big event? While the answer is yes, your aligners are removable, Dr. Gire advises his patients to always wear their aligners at least 22 hours a day. While it can be tempting to remove them for a date or big presentation, the aligners can only do the important work of moving your teeth when they are in your mouth. Aligners should only be removed when eating, drinking anything other than water, brushing, or flossing.
If my teen chooses clear aligners, how can I be sure he or she is wearing the aligners? Luckily, we know teens can sometimes forget, especially in the hustle and bustle of their busy days. There are compliance indicators located on the aligners that can tell us if your teen is in fact wearing the aligners as directed.
Does dental insurance cover CAT? Every insurance plan will be a bit different but chances are good if your plan covers braces, it will also cover aligners. A financial coordinator can help you determine the coverage included in your dental plan.
How can I get started with CAT? The first step is to schedule a complimentary consultation with an orthodontist. While CAT can work for many different types of malocclusions, not everyone will be an ideal candidate for this form of treatment. An appointment with a certified orthodontist will be able to determine which treatment form will be right for you.