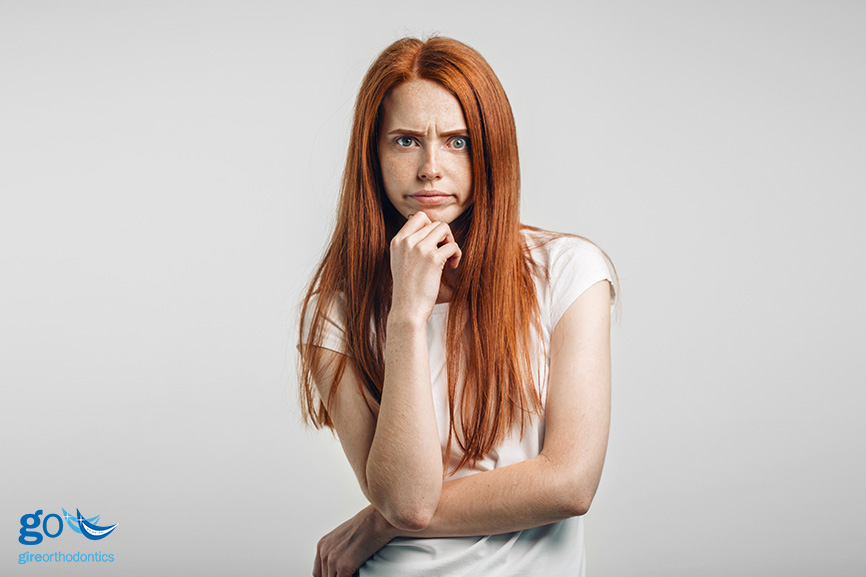 La Habra/Chino Hills, CA – The goal of orthodontic treatment is always to create a more esthetic, better functioning smile for a patient. A beautiful smile can increase self-confidence and a properly functioning bite can improve oral health. But what happens if you complete treatment and aren't 100% satisfied with your result?
"When we discuss treatment with our patients we always have to be sure we take the time to discuss reasonable outcomes," says Dr. Robert Gire of Gire Orthodontics. "This is especially true when patients opt for treatment such as clear aligner therapy like Invisalign. Invisalign is most reliable in patients who have a specific type of malocclusion, whether mild or severe but in some cases there may be some limitations."
So what happens if you complete treatment at your orthodontic office and on the day you finish treatment your smile isn't what you had hoped for?
First, it's important to understand that all orthodontic treatment has limits. In order for Invisalign to be effective the aligners must be worn a minimum of 22 hours a day throughout treatment and the aligner sets must be switched out as directed by your orthodontist. For traditional or Damon braces, those modalities are not compliance free either. You'll need to wear your elastics as directed, not break the brackets and wires, and maintain your scheduled appointments.
Regarding Invisalign, if your orthodontist insists that this is not the treatment for you but you can't see yourself wearing braces and you still want an improvement, realize that the results may be compromised. It is great for correcting crowded teeth, gaps, and less severe overbites and underbites. However, Invisalign is not the ideal solution for correcting more complex issues, such as large skeletal discrepancies and severe posterior crossbites. For these issues, standard metal braces are still the best option.
If you have completed your orthodontic treatment and you are unhappy with your smile the first thing to do is share these feelings with your orthodontist. Every orthodontist wants their patients to feel happy and confident once treatment is completed. Discuss your feelings with your orthodontist and together you can find a solution to help you get the smile you've been waiting for. For example, most offices have an "additional treatment" or "relapse program." Rather than paying an entirely new fee, most offices have these programs to keep the costs down while making you happy. At Gire Orthodontics, we have both of these programs and we'll bend over backwards to make the patients and their families happy.
In some instances a simple fix would be to switch systems! If you were wearing traditional or Damon braces and the results aren't what you expected, maybe clear aligner therapy would bridge the gap to get you happy. In some instances, people may get down on themselves or their self esteem drops because they're wearing metal brackets. That tends to lead to poor elastic compliance, poor oral hygiene, and lack of interest in the process. This will obviously lead to a result that is less than ideal. Perhaps those folks would respond much differently to Invisalign and that would keep them motivated.
Likewise, if someone were wearing Invisalign but they disliked having them on all the time, disliked taking them off and putting them on every time they ate or drank something other than water, they may not wear the aligners as directed leading to a poor treatment outcome. Perhaps they're snacking all day, every day and they can't stick with it. Those folks may respond better with traditional or Damon braces.
"Another issue we sometimes run into is that, even though orthodontists work on hundreds and even thousands of different cases and we simply can't predict how each individual patient is going to respond to treatment," says Dr. Gire. "Some patients just have stubborn or delayed movements that don't respond well to traditional treatments and then we need to course-correct and find a solution that will work more effectively."
Some tooth movements are simply more effective to complete with traditional or Damon braces because they can provide the torque necessary to achieve more difficult tooth movements. Some tooth movements are more effective with clear aligners. If your orthodontist is recommending a certain modality, there's a reason.
It is also important to note that teeth move naturally over time as we age. If you complete your orthodontic treatment but don't wear your retainer as directed you can definitely expect your smile to shift over time. If this happens and you find that the results you achieved during treatment have started to fade, schedule an appointment with your orthodontist to see what the best course of action is. For some patients if the movement is only minor, returning to retainer wear may correct it. For others it may require a few additional months in Invisalign or braces to correct.
If at any point during your orthodontic treatment you have concerns about how it is progressing, don't hesitate to speak with your orthodontist or a member of the orthodontic team. Their goal is the same as yours – a beautiful, healthy smile that will last a lifetime!