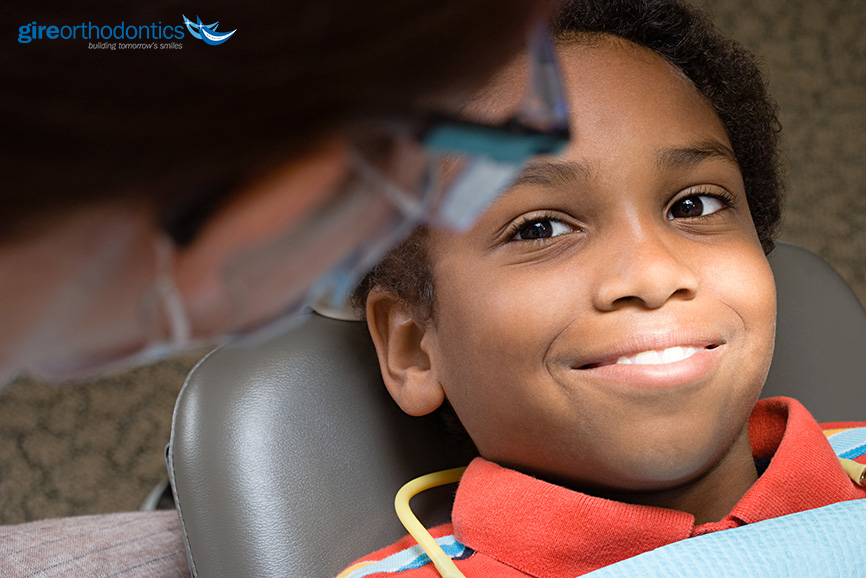 La Habra/Chino Hills, CA – Children should visit an orthodontist for the first time around the age of seven. At this time your child will likely have a mix of permanent teeth and baby teeth and the orthodontist can start to get an idea of how the smile is beginning to take shape. While most children won't require treatment at this young of an age it is important to maintain regular observational appointments. Dr. Robert Gire of Gire Orthodontics explains why.
"If your child doesn't need orthodontic treatment quite yet it can seem unnecessary to bring them to observational appointments," says Dr. Gire. "However, these appointments help us pinpoint any developing issues that may be forming and then begin treatment at precisely the right time that it will have the most impact. We use these observational appointments in patients who haven't started treatment yet and in patients who have finished the first phase of two phase treatment."
There are a few things Dr. Gire and his team do during these appointments.4>

For children who have completed phase one of two phase treatment we want to check to make sure the work we did in the first phase is retained well. That means we'll be checking the condition of your child's retainer and checking to make sure your child is wearing it appropriately. If your child has had a space maintainer placed to hold room for permanent teeth that has yet to erupt, we'll check the condition of it as well.
These appointments also give Dr. Gire the opportunity to see how the baby teeth are falling out and how the permanent teeth are erupting. It is important that baby teeth exfoliate in the correct order and on time to ensure the permanent teeth erupt properly. Dr. Gire can look at X-rays to see where the permanent teeth are located and if they are headed to a wrong location, he can work to correct that. It also gives him a chance to monitor the child's growth and development and determine if any jaw issues may be apparent. Ignoring discrepancies in jaw growth can make orthodontic treatment more difficult and involved if not corrected soon enough.
Observational appointments also keep you updated on what is happening in your child's mouth. Dr. Gire can discuss what he observes and the treatment plan he believes will be best to correct any issues that may be there.
Observational appointments are usually scheduled twice a year and are typically short appointments. Gire Orthodontics knows our patients and their families have full schedules so they always work hard to value your time. These appointments not only allow the Gire Orthodontics team the opportunity to monitor your child's growth and then recommend treatment at the right time, but they also give your child the opportunity to get comfortable in the orthodontist's office before treatment even starts. This can often make the transition to wearing braces easier and less overwhelming.
To schedule your child's complimentary consultation, call Gire Orthodontics today at 562-690-1199 (La Habra) or 909-393-9911 (Chino Hills).