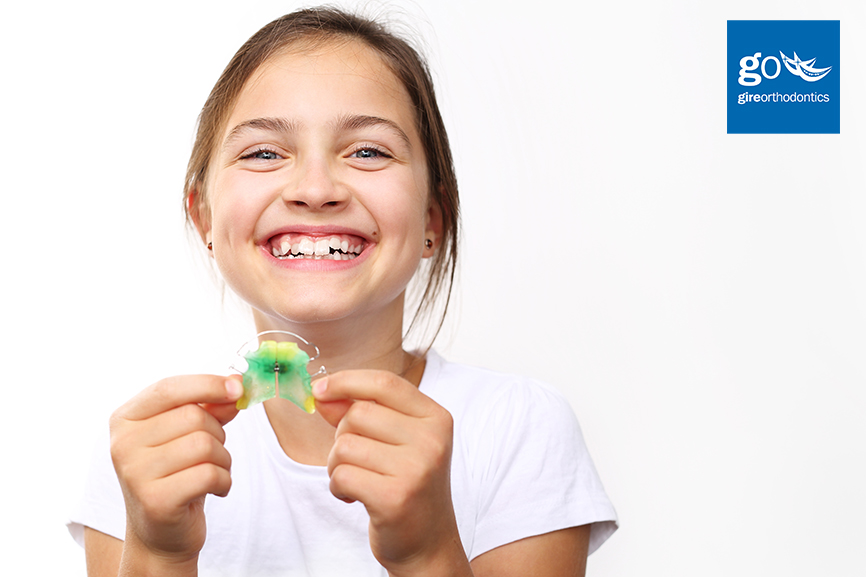 La Habra/Chino Hills, CA – Orthodontic treatment isn't finished the day a patient's braces are removed. In order to keep that smile as straight as the day the braces are removed, it is crucial to wear a retainer. Many parents may worry that their child may not follow through on retainer wear so are there options that can't be removed and/or lost?
The good news is yes – there are fixed or bonded retainers that cannot be removed from the mouth. We know parents worry their child may not wear their retainers as often as they should or they fear they'll accidentally throw away a removable retainer.
Fixed or bonded retainers are bonded to the teeth, just like braces, so there is no fear of losing it or forgetting to wear it. The wire is glued to the back side or tongue side of the teeth and is placed so that it won't be visible or interfere with the bite. Some fixed retainers are glued to each tooth while others are only glued to the teeth at each end of the retainer.
Fixed retainers are most often used on the lower front teeth, however, they can also be used on the upper teeth as well. They can stay in place indefinitely ensuring your smile stays looking as straight as the day your braces come off. If they break or come loose, your orthodontist can repair them fairly easily.
Just as with any orthodontic treatment, there are both positive aspects and drawbacks to "permanent" retainers. The most obvious benefit is that the retainer is in your mouth round the clock meaning it can't be lost or forgotten to be put in. This means they are continuously working to keep your teeth in their places. They also tend to be more comfortable than other retainers and because of their placement, they are not visible to others. This can be a relief to those who've already spent months in metal wires and brackets.
However, fixed retainers can be trickier to keep clean. It can be easy for food to get stuck in and around the wires and plaque can build up if they aren't properly cleaned. The wire of the retainer can get in the way of normal flossing so it's important to learn how to floss properly with the retainer in place. Floss threaders or water flossers can be a big help.
It's also important to pay close attention to what you eat with the fixed retainer. Foods that are too hard or crunchy can break the wire or loosen the cement that bonds the retainer to the teeth. Your orthodontist can fix this if it happens but be sure to avoid foods that may damage your retainer.
Once the braces are removed it's important to work to retain your smile in its new location. While removable retainers are great at doing just that, we know that some patients may not be ideal candidates for keeping up with them. If you think your child may benefit more from a fixed retainer, your orthodontist will be happy to discuss the pros and cons so you can make the best decision to ensure your child's smile stays beautiful and stable after braces are removed.
Call Gire Orthodontics today to learn more about fixed retainers. – 562-690-1199 (La Habra) or 909-393-9911 (Chino Hills).