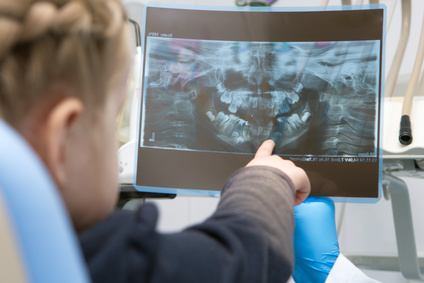 La Habra/Chino Hills, CA – If you are just starting your orthodontic journey, you probably have a lot of questions. We encourage potential orthodontic patients to do their research, and to learn more by scheduling initial consultation appointments. These appointments are free of charge, and let patients gather information and get to know the office they are considering before they begin treatment. But what exactly should you expect at this initial consultation? Dr. Robert Gire, Chino Hills orthodontist explains.
The initial consultation should be considered a fact finding mission – for both the orthodontist and the potential patient. The patient should use this time to get to know the practice – what their orthodontic treatment might entail, how they feel they are treated by the orthodontic team, the cost of treatment, insurance benefits, etc.
For the orthodontist, it provides the opportunity to better understand the patient's orthodontic issue and smile goals, and then craft a treatment plan that will deliver the patients ideal smile.
Initial consultations begin by gathering a patient's medical and dental history. This helps the orthodontic team form a complete picture and understand any concerns there may be. Then, digital images will be taken – both X-rays and photos. These images give the orthodontist a clear idea of how the current smile works together and helps the orthodontist form a clear diagnosis.
These images are combined with information the orthodontist gathers during the physical examination. During the exam, the orthodontist is looking to see how the teeth and jaws align and perform. This then allows for treatment planning to address the patient's unique needs.
For some patients, there may be more than one treatment option that could provide ideal results. Your orthodontist will discuss your options and make a recommendation about which treatment will provide the best outcome based on experience and knowledge. The orthodontist will also provide an overview of how long treatment could take.
Once the treatment plan is crafted, a financial coordinator will explain costs. Patients should understand the overall cost of treatment, insurance options, and payment plans available to them.
At Gire Orthodontics, Dr. Gire encourages his patients and potential patients to ask questions so they can be sure they understand what to expect from treatment. In order to feel prepared and a part of your orthodontic treatment, here are some questions you can ask:
Are you a board certified orthodontist? – This is important because it signifies the orthodontist's commitment to the highest ideals of orthodontics. Choosing a board certified orthodontist means you are in the hands of someone who is knowledgeable and experienced.
Are there treatment options other than braces? – While standard braces are reliable and effective, there are a lot of different treatment options available today that may be able to address your needs.
Will I need any appliances other than braces – headgear, expander, etc? – This is important so you can understand all that your treatment will entail and you can have a complete understanding of your treatment.
How often will I need to visit your office during treatment? – It's important that you understand what is expected of you during your treatment so that you can be prepared for the commitment.
How long will treatment take? – This is a tricky question – while your orthodontist should be able to provide an estimate of how long treatment could take, there can never be an exact time frame given. That's because we simply don't know how your mouth will respond to treatment.
Do you take insurance, offer any discounts, or have payment plans available? – Be sure you understand your financial commitment prior to beginning treatment. Understand what, if any, portion of the cost your insurance will cover, if there are discount for paying in full at the beginning of treatment, or if there are payment plans available.
Who will I see at my adjustment appointments? You want to be sure your orthodontist remains an active part of your treatment and that he or she will oversee your treatment from start to finish.
If you are ready to learn more about orthodontic treatment, call Gire Orthodontics today at 562-690-1199 (La Habra) or 909-393-9911 (Chino Hills).