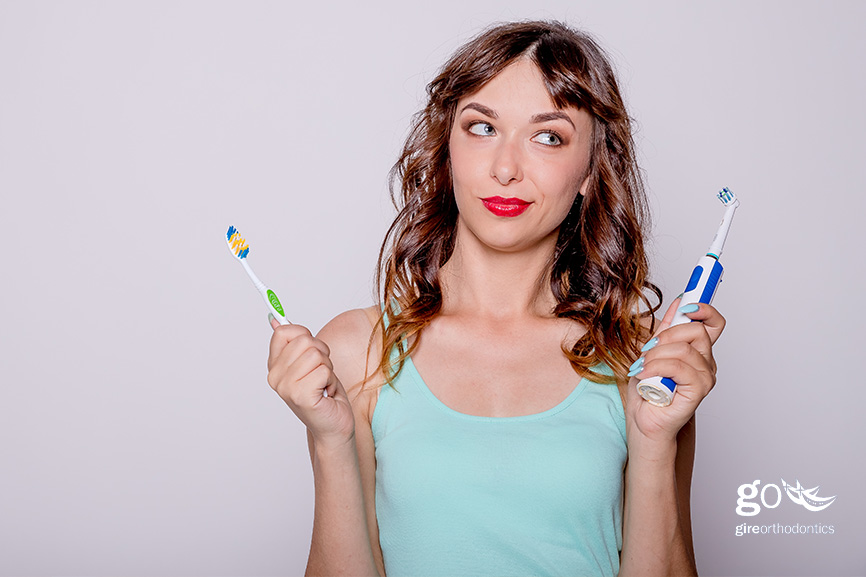 La Habra/Chino Hills, CA – Maintaining excellent oral hygiene is always important during orthodontic treatment. Cavities and gum issues can cause a hiccup and possible delay in your treatment, so it's important to implement a good oral care routine. Many patients wonder if switching to an electric toothbrush will help keep their teeth and gums as clean as possible.
Electric Toothbrushes: A Boon for Braces Wearers
"I love electric toothbrushes for my orthodontic patients," says Dr. Robert Gire of Gire Orthodontics. "Electric brushes are a great option in general, but especially if you're in braces. Your brackets and wires create a lot of nooks and crannies for food debris and bacteria to get caught. An electric toothbrush does a great job of getting to those hard-to-reach places as long as you use it correctly."
Manual vs. Electric Toothbrushes: The Debate
That doesn't mean you should throw your manual toothbrush away! Manual brushing is also an excellent tool for properly cleaning your teeth during orthodontic treatment if done well. Both work great and both are very effective. Both electric and manual toothbrushes can effectively remove plaque and debris on your teeth and gums, however, an electric toothbrush has these advantages:
Provides extra brush movements (sonic or rapid oscillations)
Ensure adequate brushing time (some have timers built in)
Adjust settings for sensitivity and speed (biggest advantage over manual brushes)
Provide enhanced gum and enamel safety (indicators to prevent pressing too hard)
Safety and Efficiency of Electric Toothbrushes
Electric toothbrushes are perfectly safe for patients with orthodontic appliances. The most common electric toothbrushes work at 2500 to 7500 brushstrokes per minute, providing a deep and effective clean that most likely couldn't be achieved with a manual brush. And as a bonus, most will have a built-in timer set to two minutes so you'll know when you've brushed sufficiently.
How to Use an Electric Toothbrush with Braces
So, how should you use an electric toothbrush?
Rinse the head of the brush and apply your toothpaste
Hold the brush at a 45-degree angle, slowing moving it back and forth. The angle is important because it allows you to make the most contact with the surface areas of your teeth while minimizing direct pressure on your appliances.
Devote 30 seconds to each quadrant of your mouth, paying close attention to the brackets and under the wires. Don't forget the chewing surfaces and inside as well.
Remember to brush your tongue!
Spit, rinse, and smile big
Adjusting Settings for Comfort and Efficiency
Many electric toothbrushes have speed and sensitivity settings. While none should be enough to damage your braces or other appliances, it's a good idea to experiment with these settings to find the one you like best.
The Challenge of Cleaning Teeth with Braces
"Properly cleaning your teeth can be difficult for everyone, but it's definitely more of a challenge if you're in braces," says Dr. Gire. "There are hard-to-reach places in your mouth even without braces, but add brackets and wires and there are many places for plaque to set up shop. Electric toothbrushes allow you to use the right pressure and technique to remove even the smallest particles that may try to hide."
Get Expert Advice on Oral Hygiene with Braces
If you want to learn more about electric toothbrushes and which may be best for you, call Dr. Gire at 562-283-6590 (La Habra) or 909-393-9911 (Chino Hills).