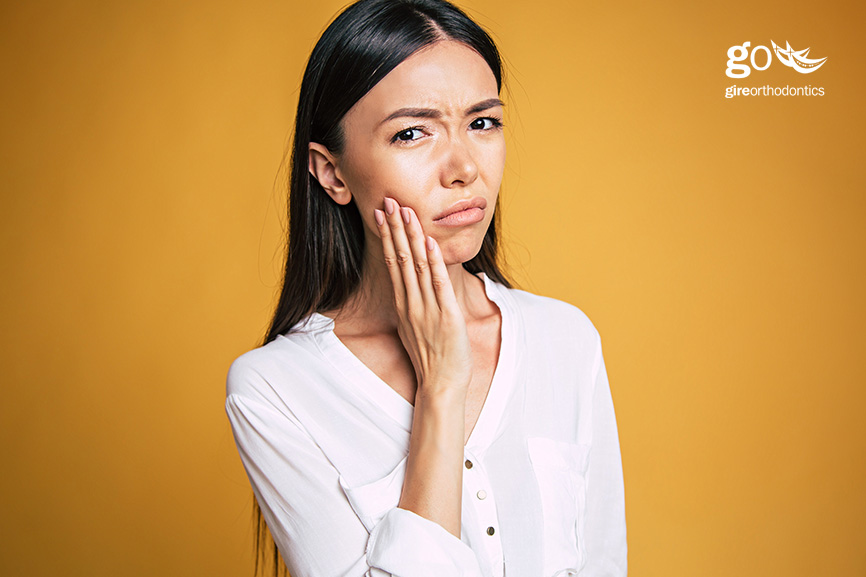 La Habra/Chino Hills, CA – Many of us have experienced tooth sensitivity – we can all probably relate to the feeling when eating or drinking something sweet, too hot, or too cold. Sensitive teeth are common and there can be a few reasons behind the sensitivity. Braces can make your teeth feel more sensitive than normal for the first day or two after an adjustment but continued sensitivity shouldn't be due to your orthodontic treatment.
Let's take a look at some of the most common culprits of tooth sensitivity:
Demineralization – The enamel on your teeth is the protective layer that fends off gum disease and decay. Loss of enamel due to demineralization can expose the inside layer (dentin) of the tooth, making your tooth more sensitive.
Improper brushing can irritate your gums and expose the root – This leads to increased sensitivity. Brushing too hard or using a hard-bristle brush can wear down the gum tissue and expose the porous root surfaces. This part of your tooth usually isn't exposed and can get very sensitive.
Fractured, cracked teeth – Fractured, cracked teeth or damage to an existing filling can expose part of your tooth that isn't normally exposed.
Teeth grinding – Teeth grinding wears down the enamel and can cause small cracks and fractures in the teeth.
Tooth-whitening products – Tooth-whitening products can contain ingredients that can affect the surface of the tooth, making it more sensitive.
Orthodontic treatment puts pressure on the teeth to gently guide them to their new locations. For patients who already have sensitivity issues, they may wonder if orthodontic treatment will exacerbate their problem. But Dr. Gire, top rated orthodontist in Chino Hills and La Habra says not to worry.
"While there is some sensitivity and minor discomfort once your braces are placed and following an adjustment appointment, these issues are usually very short-lived," says Dr. Gire. "Braces should not result in prolonged or ongoing sensitivity issues. If you experience these while in braces, the cause will most likely be one of the issues discussed previously."
In some cases, if the teeth are very crowded or overlapped before orthodontic treatment, there may be some sensitivity as the teeth are aligned. As the teeth move to their new position, areas that were not clearly exposed due to the crowding or overlapping may now be exposed. This sensitivity is transient and will go away as well.
Patients who experience tooth sensitivity should pay close attention to their oral care. Brush twice daily using a soft-bristled toothbrush and fluoride toothpaste. Floss at least once a day and avoid highly acidic foods and beverages that can damage your enamel.
If you are worried about how braces may impact your smile if you already have sensitive teeth, ask your orthodontist about clear aligner treatment. Clear aligner therapy uses a series of removable trays that fit over the teeth. The aligners are removable, allowing patients to maintain excellent oral hygiene while in treatment. There are no brackets or wires to worry about irritating your mouth and fewer places for food debris to get stuck and cause irritation. By correcting your orthodontic issue, you will be creating a healthier environment for your smile. If you are interested in learning more about orthodontic treatment and options available to those who have sensitive teeth, call Gire Orthodontics today at 562-690-1199 (La Habra) or 909-393-9911 (Chino Hills).