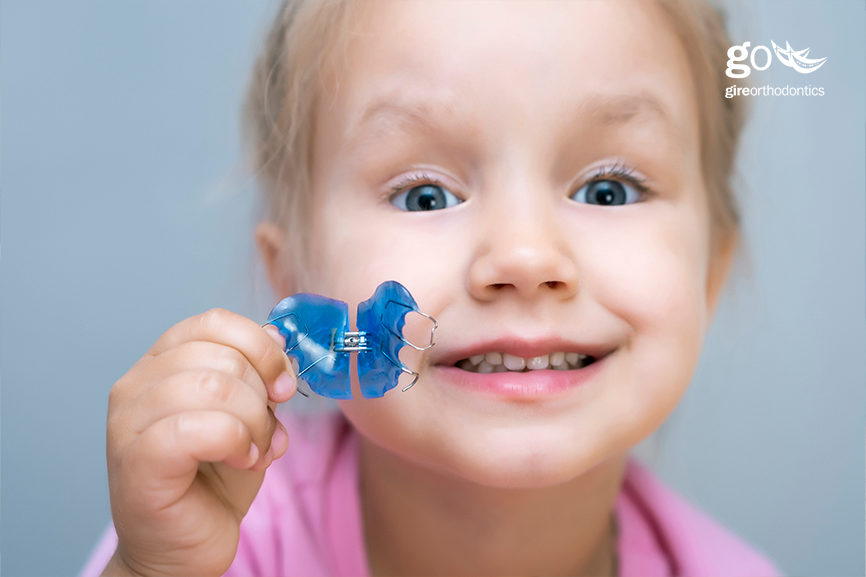 La Habra/Chino Hills, CA – The orthodontic treatment journey is unique to each patient but the steps are more or less similar. Dr. Robert Gire explains what to expect during the two phases of active treatment as well as the retention phase.
The first phase is where we take advantage of growth.
This phase is about preparation and it generally starts with a consultation around the age of seven. Dr. Gire will take some records and perform a physical examination during the initial consultation. This will determine if treatment is indicated and help Dr. Gire decide which treatment may be the most appropriate for the child's needs.
At the initial consultation, Dr. Gire checks the health of the teeth and gums, reviews the position of the teeth and growth of the jaws, and takes X-rays and digital images. The X-rays and images provide a complete picture of the mouth and its underlying structures. Dr. Gire can then make an accurate diagnosis and craft a treatment plan.
Dr. Gire will discuss the treatment options available should treatment be necessary. Some patients may have more than one treatment option that could provide excellent results. In this case, each option will be explained so the parent can make an educated decision about which option is best.
The main purpose of Phase I is to provide arch development. This is where an orthodontist uses braces and/or an expander to assist in creating more space for the developing permanent teeth that have not yet erupted. At this young age, the bone is more malleable and the patient is still growing. We can help guide the jaws in a more favorable direction.
Phase I treatment can help reduce the need for tooth removal later as well. This phase usually lasts for about 12-18 months. After this time, the braces and/or appliances are removed and the patient will receive retainers. Then we let the patient grow and allow the rest of the permanent teeth to erupt. We'll continue to monitor their growth every six months until they're ready for Phase II.
The second phase occurs after all the permanent teeth erupt.
After all the permanent teeth have erupted, we place braces (or use aligners), to finalize the bite and overall smile. This is generally a shorter phase since most of the heavy lifting is usually accomplished during Phase I. In this phase of treatment, braces (or aligners) are utilized along with elastics to fine-tune the new bite.
If your treatment calls for bracket and wire braces, Dr. Gire will adhere the brackets to the teeth and place the wire. Clear aligner therapy patients will be given their first sets of aligners. Dr. Gire will check the fit and then provide proper wear and care guidelines.
If you opt for clear aligner therapy, you must wear your aligners as directed. The aligners are removable, which can be tempting to keep them out, but they can only work when you are wearing them.
The aligning and leveling stage of active treatment then begins. During this phase, your braces or aligners will work to:
Correct rotated teeth
Create an ideal curvature of the teeth
Ensure proper alignment
Correct vertical discrepancies to ensure teeth are the same height
You'll visit Dr. Gire at regular intervals for adjustments and to ensure your treatment is progressing properly.
The next step in your journey is correcting the bite. Overbites, underbites, crossbites, and other bite issues will be addressed if they weren't fully corrected in Phase I. In some cases, those issues may have been so severe they may have started exhibiting those same patterns later. Some patients may have gaps that developed or spaces from extracted teeth that need to be filled, as well. Dr. Gire may recommend the use of elastics or springs to create an ideal bite.
The finishing stage includes any final adjustments to ensure proper alignment and an ideal bite. Dr. Gire will fine-tune as needed to ensure your result is perfectly straight teeth and a properly functioning bite.
The retention phase.
You may think the day your braces are removed is the end of your treatment. But if you want to keep that straight smile you'll need to wear a retainer. Retainers are needed because it takes a bit of time for your mouth to get used to what just happened. The periodontal ligament needs to tighten and the bone needs to re-form around the teeth. The retainer works to hold the teeth in place so you don't need to worry about relapse. Dr. Gire will provide you with specific instructions on when to wear your retainer based on your needs.
Begin your smile journey today.
If you are ready to learn more about how orthodontic treatment can create straighter teeth and a healthier bite, call Gire Orthodontics today. Schedule your initial consultation by calling 562-690-1199 (La Habra) or 909-393-9911 (Chino Hills).