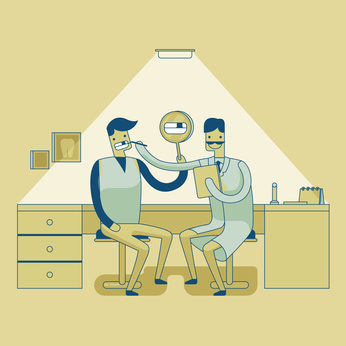 La Habra/Chino Hills, CA – The American Association of Orthodontists recommends that children should see a certified orthodontist by their seventh birthday. If you have children around that age, or if you're an older teenage or an adult, and are looking for a La Habra or Chino Hills area orthodontist, do you know how to find one that is right for you?
"There are many orthodontists," says Dr. Robert Gire, who has orthodontist offices located in La Habra and Chino Hills, CA. "But it's important to choose one who you and your child are comfortable with. Orthodontic treatment can last several months, so be sure you choose an orthodontist your family wants to create a relationship with."
First, it's important to be sure you visit a Board Certified orthodontist for orthodontic treatment. Only 25% of practicing orthodontists are Board Certified by the American Board of Orthodontics. This is an intense process that ensures your orthodontist is above the standard of care to ensure you obtain a beautiful smile that lasts years after the braces or aligners are removed. Also, many regular dentists offer some orthodontic treatments, but it is important to remember that this isn't their specialty. For example, they may have become a certified Invisalign provider over a weekend course, but perfecting bites isn't what he or she does day in and day out. Only a Board Certified orthodontist will have the unique knowledge needed to ensure you or your child has a beautiful a perfectly functioning smile.
So how do you find the right orthodontist for your family? Dr. Gire offers these tips.
Start by asking for recommendations. Ask friends and family members whose opinions you trust. Ask your dentist who they would send their child to for orthodontic treatment.
Speak to your insurance company. Most orthodontic work is covered by insurance, so before you fall in love with an orthodontist's practice, be sure he or she is covered by your insurance.
Go online to search sites that list the top rated orthodontists in your area. Patients who receive excellent treatment want to talk about it, and the same is true for patients who have bad experiences. Follow those online ratings up with in person interviews with orthodontists who make your list.
Is the office conveniently located and does the practice offer convenient appointment times?
Is the staff friendly and welcoming, treating you as part of the practice family? Is the environment comfortable and appealing?
Do the orthodontist and his team stay up-to-date on the latest technologies and procedures so you can have the best care possible?
Does the orthodontist take the time to get to know his patients, and value their input, questions and feedback?
Is there a comprehensive fee that covers all orthodontic work, including X-rays, retainers, appliances? Be sure there are no hidden fees that can come up during treatment.
"There are many well-trained orthodontists, and it can seem hard to find the right one for you," says Dr. Gire. "Often, the best way to know if the orthodontist will be a good fit for your family is to meet him or her and the staff. If you feel comfortable in the office, the staff is welcoming, and the orthodontist is interested in getting to know you and welcomes an open dialogue, that's a sign that this is the right choice for you."
Most orthodontists will offer a free consultation. Use this appointment to get to know the practice and their treatment philosophy and to ask all the questions you need to make an informed decision.
Creating the ideal smile is a commitment, on the part of both the orthodontic practice and the patient. The team needs to work well together to achieve the best results, so take the time to properly research orthodontists and choose the one you'd most like to have as a teammate.