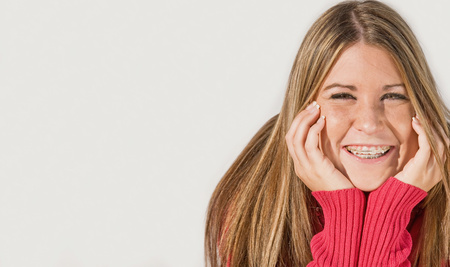 La Habra/Chino Hills, CA – No doubt you've started to see holiday decorations popping up all over the place. Ever year it seems the holidays are upon us quicker and quicker. With the winter holidays come delicious treats that we're all anxious to enjoy. But before you pick up that tin of popcorn or peanut brittle, stop to think how it might affect your braces.
"Just because it's the holidays doesn't mean you can take a break from the list of foods you should avoid with your braces on," says Dr. Robert Gire. "I know the holidays will be filled with lots of tempting treats and that's why it is a good idea to review the foods that can damage your braces."
To ensure you don't have to make an emergency visit to the orthodontist, avoid:
Hard foods – Before you reach for the veggie plate, cut any hard vegetables into bite sized pieces. Avoid things like nuts, popcorn, hard candies, etc. that can break or bend the brackets or wires.
Sticky, chewy foods – Caramel, licorice, taffy, toffee, etc. can all pull on your brackets and cause damage. Trade them out for pudding, JELL-O (who doesn't like JELL-O?), ice cream and other soft treats.
Crunchy foods – Crusty breads (like some pizza crusts), pretzels, ice (you shouldn't chew on ice whether you have braces or not!), and chips can all cause wires and brackets to break, so stay away from anything that is too crunchy.
"The good news is, there are still plenty of treats and holiday foods that you can enjoy," says Dr. Gire, who treats orthodontic patients in La Habra/Chino Hills at his two practices, Gire Orthodontics. "Thanksgiving is coming up, and the traditional turkey dinner has many braces-friendly options. Turkey, mashed potatoes, stuffing, soft rolls, and pumpkin pie can all still be enjoyed without fear of damage."
And be sure that if you are indulging in holiday sweets, you don't skimp on your oral hygiene. If you're traveling during the holidays, be sure you pack everything you need to keep your mouth healthy and clean, including Waterpiks or floss threaders to make brushing and flossing easier. If you know that you'll be out and about quite a bit, make sure you keep a travel toothbrush and a pack of floss with you for brushing on the go.
It can also be handy to brush up (no pun intended) on your orthodontist's emergency hours, just in case you happen to break a bracket or wire over the holidays. Slight damage to your braces can happen to the best of us, but it's important to get them repaired in a timely manner. Your braces can't efficiently move your teeth if they're broken, so take note of your orthodontist's holiday hours as well.
This holiday season, you can still enjoy delicious treats without causing problems with your braces. Getting into the holiday spirit is just a cup of hot cocoa away! Happy Holidays and call us if you need anything! La Habra: 562-690-1199; Chino Hills: 909-393-9911.