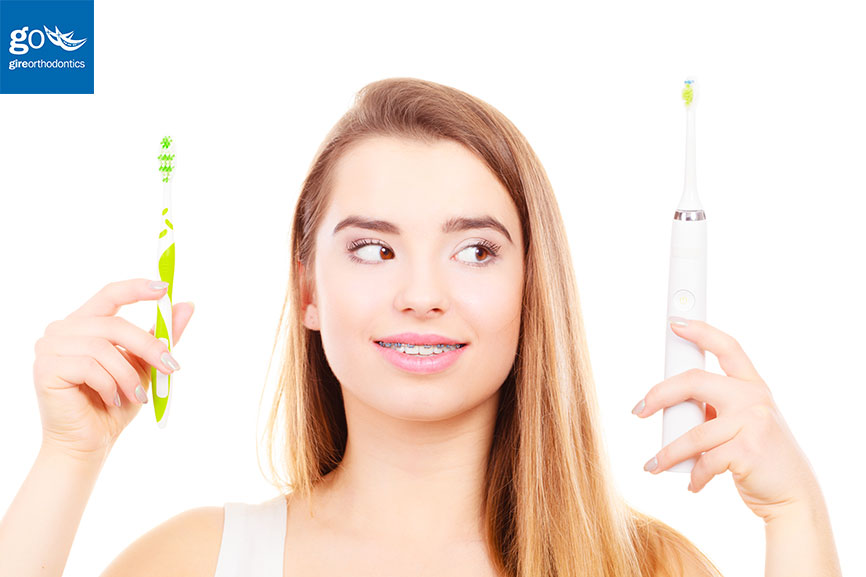 La Habra/Chino Hills, CA – When you are in orthodontic treatment, it is very important to up your dental hygiene routine to avoid any pitfalls during your treatment. Traditional braces that consist of brackets and wires can create a lot of nooks and crannies for food particles and other debris to hide, so it is crucial to brush and floss properly to avoid cavities. But what type of toothbrush is best – electric or manual?
"I believe electric toothbrushes offer a bit of an edge over manual brushes," says Dr. Robert Gire. "But it isn't just me who thinks that. American Journal of Orthodontics & Dentofacial Orthopedics found that electric toothbrushes can remove a significant more amount of plaque than manual toothbrushes."
What gives an electric brush the advantage and allow them to remove as much as two times more plaque than the average manual brush?
Electric toothbrushes work to increase fluid motion in between your teeth, thereby increasing cleaning efficiency. When paired with the thousands of movements created by an electric toothbrush that simply can't be matched by a manual one, an electric toothbrush can reach the nooks and crannies that may not be reached otherwise.
More advanced electric toothbrushes have specialized cleaning modes, timers and sensors to help ensure your brush properly and for the proper amount of time. Many people rush through their toothbrushing, but an electric brush with a built-in timer will help ensure you are brushing adequately for the correct amount of time. An electric toothbrush can help you ensure you are in better control of your oral hygiene.
"An electric toothbrush can help you be more effective at removing plaque, which will be effective at helping you avoid tooth decay," says Dr. Gire. "Look for an electric toothbrush with a smaller head and soft bristles and change out your brush head every three months or sooner if it shows signs of wear."
Daily brushing and flossing, at least twice a day, with the right toothbrush will help prevent tooth decay, plaque build-up, and bad breath, as well as make your time in braces much easier. If you have questions about which brush might be right for you or need tips on how to brush properly while in braces, Gire Orthodontics is always available to answer questions or address concerns. Call Gire Orthodontics today at 562-690-1199 (La Habra) or 909-393-9911 (Chino Hills).