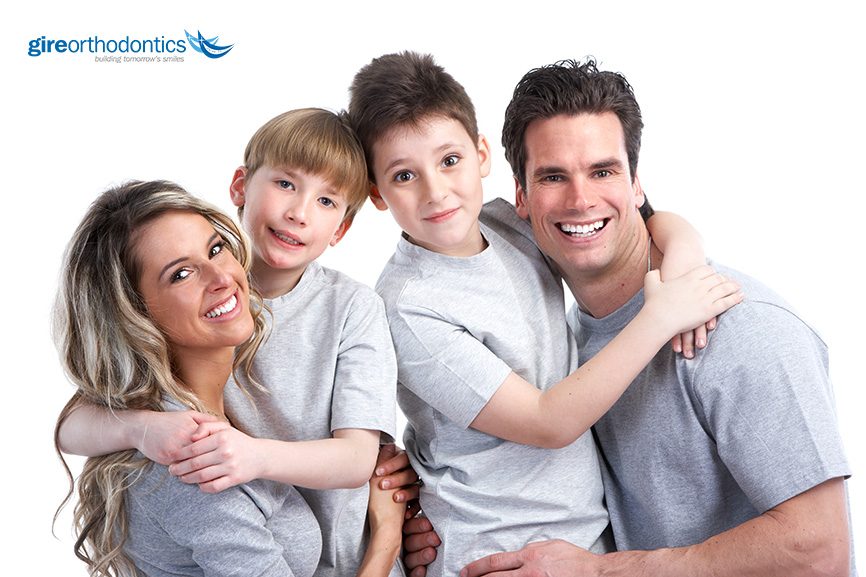 La Habra/Chino Hills, CA – At Gire Orthodontics, we think everyone deserves a chance to show off their best smile. That's why we treat patients of all ages at our La Habra and Chino Hills offices.
"It's not just teenagers who can benefit from orthodontic treatment, but younger patients and adults as well," says Dr. Robert Gire. "Our practice treats patients of all ages, including family members. We love to see families smiling bigger than ever before thanks to their orthodontic care."
Orthodontic Care for all Ages
If you conjure up a picture of someone going through orthodontic treatment, chances are good you imagine a teenager with a mouth full of metal. While standard metal braces are still the most reliable and commonly used type of braces, the number of treatment options and the ages of patients are more varied than ever.
An orthodontist's job is to ensure the teeth are not only straight but work properly in conjunction with the jaws and facial muscles. The ultimate goal is to create a healthier mouth that functions properly. While the typical patient is probably in their early to mid-teens, patients should begin seeing an orthodontist at the age of seven. And nearly one in five orthodontic patients today is an adult, showing that you're never too old to improve your smile.
"Orthodontic care can happen at any age, but there are some differences between treatment at a young age and treatment as an adult," says Dr. Gire. "Younger patients have the benefit of a growing jaw, which we can help guide to make the tooth straightening process more efficient. Adults don't have that luxury, but that doesn't mean they won't be able to get a straighter smile."
Children should see an orthodontist by their seventh birthday. This is important, as Dr. Gire pointed out, to check for how the permanent teeth are erupting and to ensure the jaw and mouth are growing properly. If needed, the orthodontist can begin two phase treatment to guide the growth of the jaw to make sure there is adequate space for the remaining permanent teeth. Two phase treatment, if indicated, can often make the second phase of tooth straightening easier and more efficient.
Adolescents, teens and adults who didn't undergo this early interceptive treatment are all still candidates for better smiles, but there are some differences for adults undergoing orthodontic treatment. They include:
Issues from periodontal disease – Many adults who've gone a lifetime with crooked or crowded teeth may also have gum disease because their teeth were harder to keep clean. Gum or bone loss due to gum disease can make orthodontic treatment slightly more difficult.
Orthognathic surgery – Some adults may have experienced improper jaw growth, leaving their bite poorly aligned. In children, an orthodontist can help guide the jaw to proper growth, but in adults jaw surgery may be required to ensure a correctly aligned bite.
Missing or worn teeth – Over time, our smiles will naturally shift some, which can lead to a bad bite, which in turn leads to worn down teeth. Orthodontic care can correct a bad bite, and paired with dental treatment, can ensure a healthy mouth.
"At Gire Orthodontics, we recognize the unique needs that children, teens, and adults have as orthodontic patients," says Dr. Gire. "We are committed to ensuring that every patient receives the customized care that he or she deserves, and finishes treatment with a gorgeous, healthy smile."
If your family is in need of an orthodontic home, Gire Orthodontics will ensure your family receives the care and understanding you need. Call today at 562-690-1199 (La Habra) or 909-393-9911 (Chino Hills).