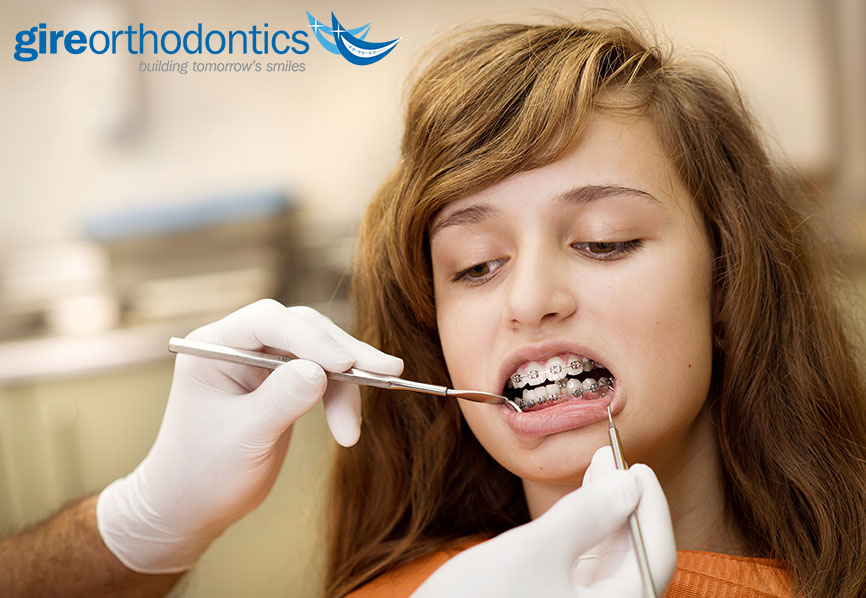 La Habra/Chino Hills, CA – Now that you have your braces on, you may think that visiting your orthodontist for your recall visits is enough. After all, you'll be in your orthodontist's office a lot over the course of your treatment, so why would you also need to visit your dentist? But no matter how long or short your orthodontic treatment takes, it is still very important to see a dentist regularly throughout your treatment.
"Seeing your dentist regularly during your treatment with me is crucial to ensuring your treatment stays on track," says La Habra/Chino Hills orthodontist Dr. Robert Gire of Gire Orthodontics. "My job is to straighten your teeth and give you a stable, healthy bite. That can't be done if your mouth is compromised due to cavities and/or gum disease."
Think about it – the brackets and wires of your braces are providing lots of areas where food, plaque, and debris can get stuck. Even if you are the most diligent of brushers, there is still an increased chance for plaque and tartar build-up while you are in orthodontic treatment. And if you aren't seeing a dentist regularly to ensure the build-up is being removed, it will turn into cavities and/or gum problems.
"If you want your treatment to stay on track and be completed in a timely manner, it's important to see your dentist every six months," says Dr. Gire. "Plaque and tartar can build up quickly. Whether you have standard metal braces, clear braces, lingual braces, or Invisalign, your dentist plays a role in helping us make sure your treatment can be completed in a timely manner.
Your dentist will do a thorough cleaning of your teeth, using special tools for patients in braces, to ensure any plaque that may have accumulated is cleaned before cavities can set in. If your dentist sees that you may need a bit of extra attention during your orthodontic treatment, he or she may recommend more frequent professional cleanings to ensure your mouth can stay as healthy as possible while your braces are on.
The health of your gums is also important to ensuring your braces can do their job. This is important to know because gum disease affects many adults, and nearly one in five orthodontic patients today is an adult. Undergoing orthodontic treatment while a patient has gum disease may actually worsen their prognosis.
Straighter teeth are often healthier because they are easier to clean. The likelihood of getting gum disease is less when your teeth are properly aligned because your gums will fit properly around your teeth, leaving less room for bacteria and plaque to accumulate. But, if you already have gum disease, orthodontic treatment may exacerbate the condition.
"We always encourage our patients, especially adults, to undergo a thorough exam with their dentist before beginning orthodontic treatment," says Dr. Gire. "Gum disease affects nearly 65 million Americans. Gum disease can lead to bone loss around the teeth, and the movement required during orthodontic treatment may worsen that bone loss, which will lead to an unstable bite."
This is another reason why maintaining check-ups with your dentist is so important during your treatment. Gum disease is treatable, and if caught in the early stages, can be quite easy to correct. Dr. Gire can work in conjunction with your dentist or periodontist to ensure your gum disease is under control before placing your orthodontic appliances.
"To maintain the integrity of your treatment plan, it is important to maintain regular dental check-ups and professional cleanings throughout your time in your braces and appliances," says Dr. Gire. "Our staff is always happy to work with you to help maintain your oral hygiene and provide you with any tips or tools you may need. But your dentist is an important partner in ensuring you have a healthy, beautiful smile when treatment is complete."