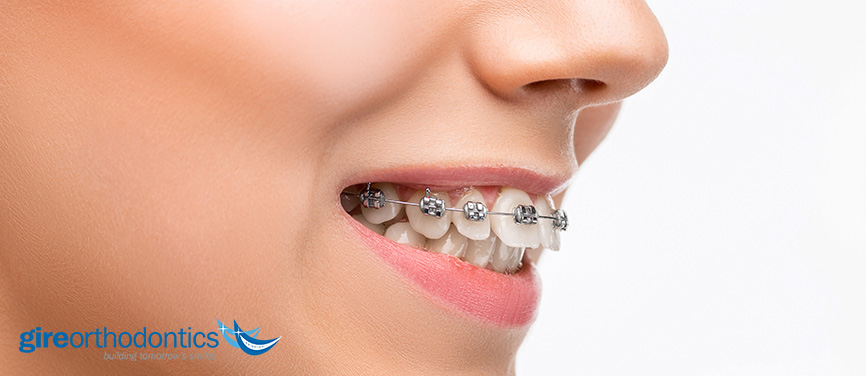 La Habra/Chino Hills, CA – Children should visit an orthodontist for the first time shortly after their seventh birthday, according to the American Association of Orthodontists. This is important so that an orthodontist can begin treatment as soon as a problem is detected, allowing for the best possible smile outcome later. While many patients won't require any treatment at such a young age, if the orthodontist suspects there might be an issue, he can begin monitoring the child's growth and recommend treatment when it will have the most impact.
One such issue that orthodontists are looking for is a severe overbite. Most people think of an overbite as an issue where the upper front teeth stick out much further than the front lower teeth. In fact, that's called overjet. Overjet is what this article is referring to but we'll call it an overbite since that's what most people confuse it as. The true definition of an overbite is described as a deep bite. When the patient bites down, the lower front teeth are mostly or completely hidden by the top teeth. So again, let's focus on how to correct the teeth so the upper front teeth don't protrude too far forward compared to the bottom teeth.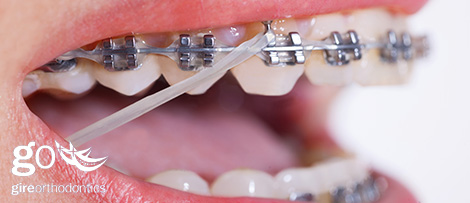 For some patients, braces can be put on and elastics can be used to help guide jaw growth and place the jaws in the proper position for an ideal bite. But for more serious "overbites," patients may benefit greatly from a device called the Forsus Fatigue Resistant Device.
"Forsus promotes continuous movement of the dento-alveolar complex, thereby improving the bite of the patient," says Dr. Robert Gire of Gire Orthodontics, a La Habra/Chino Hills orthodontist. "For the most extreme protrusive bites, elastics alone may not be enough to guide the teeth and jaws properly, but with six months or so of using the Forsus, we see tremendous improvement in how the jaws of adolescent patients fit together."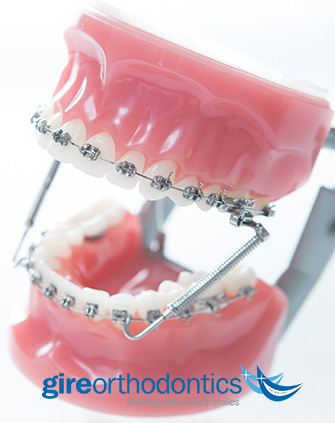 The Forsus appliance consists of a spring and rod system. The spring piece will be attached to the upper molar or archwire, while the rod will be attached to the lower archwire before being placed inside the spring. The system then works to guide your jaw to the proper place to allow your bite to fit together correctly. The best part? You don't have to do a thing! The teeth will move together in the direction that we want them to while you go on about your normal business of eating, chewing, and talking.
The Forsus device is easy for an orthodontist to place, but can take a little bit for the patient to get used to. Because they are repositioning the bite, patients often state that they feel as though their bite is strange, but that's just because it is working to guide the teeth and bone to their new positions. There may be a bit of pressure and discomfort in the first few days. Over-the-counter pain medication can be used if needed, and orthodontic wax can be used to ease any discomfort.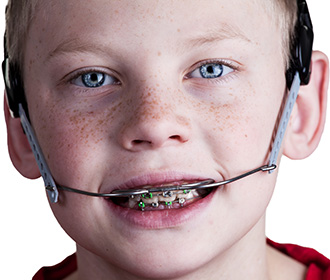 "The Forsus appliance is the most reliable way to correct severe 'overbites' in orthodontics today," says Dr. Gire. "In the past, we recommended headgear or bulky appliances and both required either a high degree of co-operation from the patient and/or they were too uncomfortable. If a patient is forgetful and doesn't wear the headgear as prescribed by the orthodontist, treatment may take longer. But the Forsus is placed by the orthodontist and can't be removed, so patients don't have to worry about remembering to place or remove them."
The Forsus has a low profile and won't be too noticeable. Similar to elastics, Forsus allows for a full range of motion, so there won't be any issues with speaking or eating. It's also easy to clean, so as long as you continue positive oral hygiene habits there won't be any cause for concern.
But the best thing about Forsus is that it is effective. It is placed by the orthodontist, and then works without the patient having to do anything. Twenty four hours a day, it is working to guide your jaw and teeth into proper alignment.
If you have a severe discrepancy between your upper front teeth and your lower front teeth, call Dr. Gire today to learn more about Forsus and other options to correct your smile, 562-690-1199 (La Habra office) or 909-393-9911 (Chino Hills office).