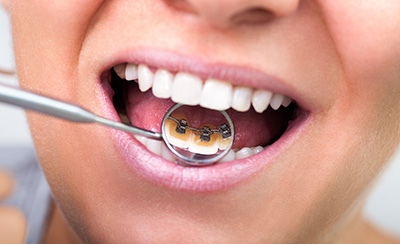 Lab Habra/Chino Hills, CA – There are numerous options for braces on the market today so it can be difficult to know which is the best for your situation. If you are looking for a more esthetically pleasing way to straighten your teeth, lingual braces might be an option to consider.
"Lingual braces are unique because they fit along the tongue side of the teeth, making them virtually invisible to other people," says La Habra/Chino Hills orthodontist Dr. Robert Gire of Gire Orthodontics. "They are still metal braces but they are designed to fit to the unique curvature of the inside of your smile."
While lingual braces have started gaining popularity in recent years, they were actually invented in the 1970s, both by an American orthodontist and a Japanese orthodontist. Dr. Kurz, the American orthodontist, was hoping to find a way to help patients straighten their teeth less noticeably while the Japanese orthodontist, Professor Fujita, was looking at a way to help protect the lips and cheeks of athletes.
What are the main advantages to lingual braces?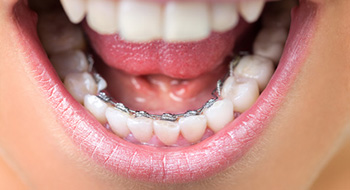 Lingual braces can be even less noticeable than other "clear" options, including clear aligner therapy such as Invisalign. Because the brackets and wires are placed entirely on the back of the teeth most people won't even realize you are wearing them. Invisalign is an appealing option, but for some patients Invisalign requires the use of buttons and attachments, which then makes the treatment somewhat visible to others.
Using lingual braces provides the same efficiency standard metal braces offer, with the esthetics of aligner options, such as Invisalign. Your orthodontist will have control over the movement of your teeth, allowing for very efficient treatment.
Lingual braces are a great option for athletes, musicians who play wind instruments, and anyone else who may wish for effective tooth movement, but in an esthetically pleasing way.
What are the main disadvantages of lingual braces?
First, it can be difficult to get used to the feeling of the brackets and wires against your tongue. For that reason, it can take longer to get used to wearing lingual braces than it would standard metal braces.
Other issues may include difficulty with speech because of the tongue's newfound inability to make contact with the back of your teeth. You may notice a small lisp until your tongue gets used to finding a new location to produce these sounds. Dr. Gire recommends practicing speaking to help get used to where you will need to place your tongue to accommodate your new braces.
You may find your tongue is sore or irritated in the first few days and weeks after getting lingual braces. Over time, your tongue will get used to it, but it can be annoying in the meantime. Dr. Gire recommends rinsing with warm salt-water and using an over-the-counter pain reliever or anesthetic on your tongue to help. Orthodontic wax can also be placed in the areas that are the most irritating.
You may also discover eating and brushing your teeth is harder. You may find food gets stuck in the brackets and it is harder to properly clean them because of their location. But, just as with speaking, it will take some time to fine-tune your oral care routine.
Additionally, not every orthodontic patient will be an ideal candidate for lingual braces. Patients who have a deep bite may place too much pressure on the brackets, causing them to break or dislodge. The best person to help you determine which orthodontic treatment is right for you is a certified orthodontist. He or she can discuss the advantages and disadvantages of each option available to you and help you find the option that will both meet your smile goals and fit in with your lifestyle.
To learn more about lingual braces and how they may be able to help you get the smile of your dreams, call Gire Orthodontics today at 562-690-1199 (La Habra) or 909-393-9911 (Chino Hills).