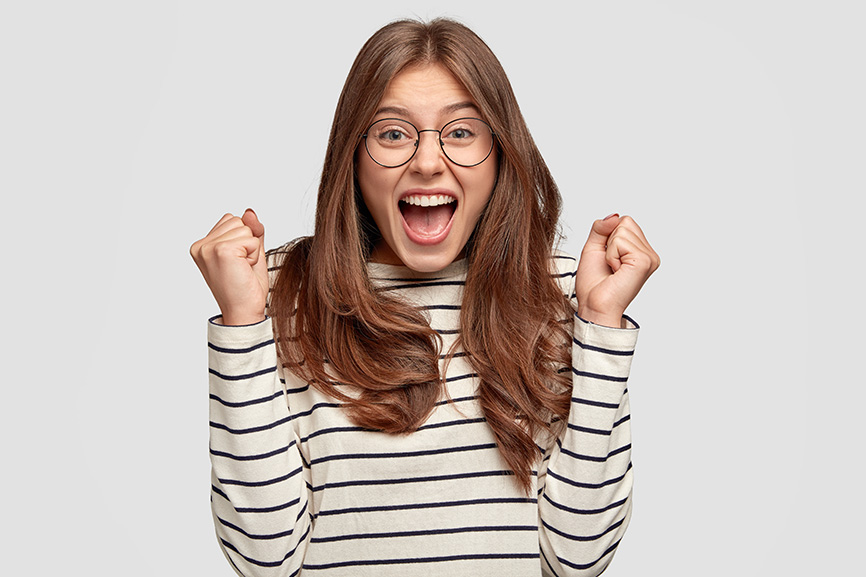 La Habra/Chino Hills, CA – The day your braces come off is a day to celebrate! You've worked hard and it's finally time to see the result of all of that hard work. Dr. Robert Gire of Gire Orthodontics answers some questions about the day the braces come off so you'll know what to expect.
Will it hurt? While you may feel a bit of pressure when your braces are removed, the process should be pain free. Your teeth may feel a bit sensitive for a few days after removal and know that is a normal phenomenon.
How are the braces removed? Your orthodontist will use a special device to pop the brackets free of their bonding material and often times, your braces will come off in one piece. Your teeth will then get a thorough cleaning. All of the teeth will be polished to remove any residue left over from the adhesive that held your brackets in place.
Your orthodontist will probably also want to take some new X-rays, photos, a digital scan or a bite impression. These images not only show us that the braces did what they were supposed to do but they also help make retainers.
How long will the appointment last? Plan to be in your orthodontist's office for about an hour or so.
Will my teeth feel weird after? Yes! Your smile will certainly feel different because not only will your teeth be properly aligned but there also won't be any metal brackets on them anymore. Your teeth and gums may feel a bit sensitive and tender, but this will go away soon.
What can I do to help relieve sensitivity? Avoid eating anything that is too hot or cold, as well as foods that are crunchy or sticky until the sensitivity subsides. Be sure you brush your teeth well and floss. If your mouth feels a bit sore, you can take an over-the-counter pain reliever to help.
Do I have to get a retainer? You will be fit with a retainer before leaving your orthodontist's office. Your teeth may be straight when the braces come off but without a retainer they won't stay that way. Your orthodontist will explain how often your retainer needs to be worn and it's important that you follow these wear instructions.
What's next? After getting your braces off, it's always a good idea to schedule an appointment with your dentist a few weeks later. A professional cleaning will be exactly what your gorgeous new grin needs but you'll want to wait a couple of weeks to let the swelling in the gums subside so your cleaning is effective.
"We love celebrating with our patients on the day their braces are removed," says Dr. Gire. "We love getting to know our patients and seeing their smiles progress over the course of treatment. But our favorite day is seeing how proud our patients are to show off their beautiful new smiles."
Gire Orthodontics is here to help patients with every step of their orthodontic journey. From your first consultation to the day the braces are removed and beyond, Dr. Gire and his staff are here. If you are ready to begin your path to a new smile, call Gire Orthodontics today at 562-690-1199 (La Habra) or 909-393-9911 (Chino Hills).